Italian coal miners end barricade after pit reprieve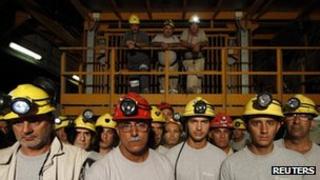 A group of miners who barricaded themselves in an Italian mine with explosives have ended their strike.
Some 100 coal miners went on strike at the Carbosulcis mine in Sardinia last week after officials said the mine would be closed.
They said the pit, the country's only coal mine, had struggled to stay financially viable.
But on Monday the Ministry of Industry reversed its decision and said the mine would instead be updated
The mine, which employs around 500 people, is to be upgraded in line with the latest technology in order to make it economically sustainable, said the ministry.
The miners, who were protesting 370m (1,200 feet) below ground with hundreds of kilograms of explosives, are expected to resume work on Tuesday.
According to reports, they wanted the pit to be diversified into a combined mining and carbon capture site.
State funding is potentially available for carbon capture - a process of storing polluting emissions underground to help prevent global warming.
The miners have mounted similar protests during labour disputes in the past. In 1995 they occupied the pit for 100 days.