Customs seize laundered fuel at Dublin port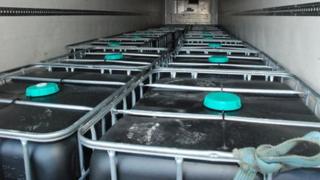 Customs officers have seized over 20,000 litres of laundered fuel, a truck and 40 foot unit at Dublin Port.
Two men, one from Northern Ireland and one from Co. Louth, were questioned about the seizure and files are being prepared for the DPP, the Revenue says.
The fuel was being exported out of the country when it was intercepted.
Officers recovered 20 containers each holding more than 1,000 litres of fuel, pumps and a metering system concealed in a 40 foot refrigerated unit.
Laundered fuel is red or green diesel that is filtered through chemicals or acids to remove government markers that indicate that it has been rebated and is not for road use.
The UK uses a red marker and the Irish Republic uses green.