Strauss-Kahn's wife Anne Sinclair confirms split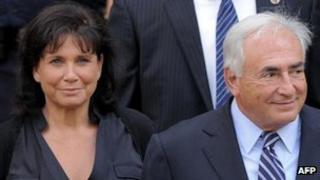 Dominique Strauss-Kahn's wife Anne Sinclair has indirectly confirmed that they have separated, after the ex-IMF chief was embroiled in a sex scandal.
After she was asked how her personal life was going "since your separation", she told Le Parisien that she is "in good form".
There were reports that the high-profile couple had split last month but neither party confirmed the rumours.
Ms Sinclair, a journalist, stood by her husband though a series of scandals.
In June the couple, both 63, threatened to sue Closer magazine over allegations that they had separated.
Mr Strauss-Kahn was forced to resign from the International Monetary Fund earlier this year after he was arrested on charges of sexually assaulting a New York hotel maid.
The charges were eventually dropped, but he has since faced a number of other civil and criminal actions related to sex allegations.
In March, he was charged along with two businessmen and a police chief with organising a prostitution ring for orgies in France and the US, allegations which he denies.
In addition to having to resign from his job at the IMF, he had also been the favourite to be the socialist candidate in this year's French election but had to pull out.
Ms Sinclair, a journalist, heiress and head of the Huffington Post's French edition, and Mr Strauss-Kahn were married for some 21 years.
Until recently they had lived in Washington DC, where she had covered US politics for French media.