Russian police detain man over 'Pussy Riot' murder case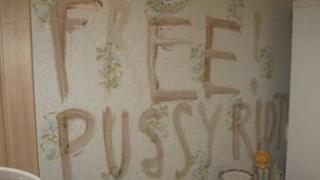 Russian police say they have detained a man who confessed to killing two women in the city of Kazan, then trying to mislead investigators by writing Free Pussy Riot on the wall in blood.
The bodies of the 38-year-old woman and her 76-year-old mother were found earlier this week in their apartment.
The man, named as university professor Igor Danilevsky, was apparently dating the younger woman.
Three members of the punk band Pussy Riot were jailed earlier this month.
Maria Alyokhina, Nadezhda Tolokonnikova and Yekaterina Samutsevich were sentenced to two years for performing a protest song in Moscow's Christ the Saviour Cathedral in February.
The women said their "punk prayer" was a protest against the government of President Vladimir Putin and the support he enjoys from the leader of the Orthodox Church.
The case divided public opinion in Russia and sparked international condemnation.
Russian officials said Mr Danilevsky daubed the message on the wall in the hope of convincing police that it was a political act.
They say he murdered his girlfriend over finances and holiday plans, and killed her mother because she was a witness.
"Before leaving, in order to remove any suspicion from himself and make it seem like a ritual killing, he arranged the victims' bodies in a certain manner and wrote Free Pussy Riot on the wall with their blood," the federal investigative committee said in a statement.
Some Russian publications and websites had already run headlines saying Pussy Riot supporters had carried out the killings, or that the band had "inspired" the murderer.