Spain wildfire: Your stories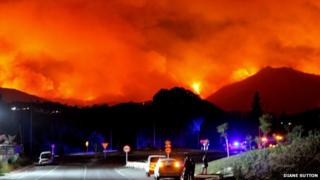 Thousands of homes have been evacuated in southern Spain as a fire burns out of control near the popular tourist destination of Marbella.
More than 5,000 people have been evacuated from homes.
Overnight the fire spread rapidly through a 12km (eight-mile) coastal strip, not far from holiday resorts.
BBC News website readers in Spain have been describing how the wildfire has affected them.
Jackie Marshall, Entrerrios, nr Mijas
We are stranded at a friend's house in Entrerrios as the property we rented for our holiday has burnt down in the fire.
We rented accomodation that was on two levels. The upper level has been destroyed. The bottom level may be OK but there are gas cylinders in there that may blow up so we aren't allowed in.
There is another separate building we might be able to stay in but it has no electricity or running water.
We are a party of 18 people, adults and children aged from five.
Our passports have been destroyed and our airline Easyjet will not let us travel with just our boarding passes that survived.
We don't know what to do.
The British Consulate in Malaga say Easyjet should accept out boarding passes and are trying to help with temporary passports as we need to get back to the UK on Sunday evening.
We went out for dinner last night and saw the smoke in the distance.
By the time we were driving back the road was closed and we had to stay the night in a hotel in Fuengirola.
Hilary Vaughan, Calahonda
We are staying in upper Calahonda - we arrived here on holiday on Tuesday.
We were evacuated twice during the night, the first time at 01:00 (23:00 GMT), just as the lights went out.
We then returned at 05:00 (03:00 GMT) when it was assumed the danger had passed, only to be woken a second time at 07:30 (05:30 GMT) by a commotion outside - the hillside in front of our apartment block was alight.
We were standing outside in the middle of the night as the sky was red with the flames and the air dark from the smoke billowing across Calahonda.
The flames were 20 feet in height and came within one metre of our apartment.
We let the fire-fighters into our apartment so that they could douse the flames. They had to break down a door downstairs to get into an apartment.
The quick response from the local fire-fighters, planes and helicopter saved the day.
Not the relaxing start to a break in the sun, but a full English has put us back on top!
We are back in the apartment, clearing up the thick layer of ash that has settled.
Kimberley Stone, El Soto de Marbella
My family and I flew out to Spain on Thursday to our holiday home in El Soto.
We were having a barbecue when we first saw the fires around 21:00 (19:00 GMT).
Fires are not uncommon but I have never seen them on this scale before.
The wildfire seemed to dip and then suddenly the wind picked up and we saw fire coming towards our apartment.
We decided to leave the apartment around 23:30 (21:30 GMT).
As we drove down the hill we went through burning embers that were everywhere.
There are lots of families in El Soto and some without transport so I don't know how they were able to leave.
We are now in El Puerto which is a little bit out of the way.
We didn't book into a hotel for the night because we didn't think we would have to be away from our home for so long.
But the roads were closed and we were not able to return home so overnight we ended up sleeping in our car.
We are still waiting to hear when we can go back to the apartment.
Derrick Highfield, Elviria
In the early hours of this morning the fire was within 200 metres of my home and we are only 800 metres from the beach, five miles east of Marbella.
In the hills you could see fires flaring up and moving at alarming speed caused by the gusting winds.
I am sure the countryside will be devastated for many years.
The number of resources mobilised by the Spanish was truly amazing.
In this area the situation seems to be under control but I just heard on the radio the main road from Marbella to Ojen is closed.
The Spanish are doing an incredible job to reduce the impact of this disaster - please don't allow negative reports about the way Spanish authorities are dealing with the situation.
It's quieter now than it was this morning when there were three planes and helicopters overhead dropping water all the time.
There is less aircraft overhead now and the air is clearer, but it's windy so there is concern it will spread.
Last night was a pretty frightening experience but the authorities had so many people and couldn't have done more to help us.
Interviews by Andrée Massiah & Amber Dawson