Snake found at Guinness brewery in Dublin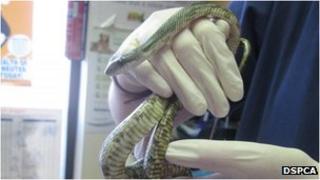 A snake has been recovered from St James's Gate in Dublin after apparently arriving in a container of empty Guinness kegs from Texas.
Guinness Brewery called the Dublin Society for the Prevention of Cruelty to Animals after the snake was discovered.
It has been identified as a non-poisonous corn snake.
The juvenile snake is said to be underweight and dehydrated and will be cared for by a vet who identified it.