Norway PM Jens Stoltenberg 'sorry' over Breivik response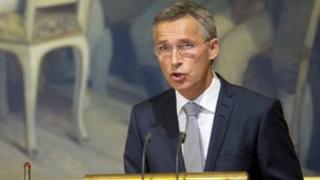 Norway's prime minister has apologised for failings in the authorities' response to last year's attacks by Anders Behring Breivik.
In an address to parliament, Jens Stoltenberg said he took responsibility for mistakes and promised a raft of new anti-terror measures.
An official report concluded that police could have stopped Breivik sooner on the day of the attacks.
The bombing and shooting rampage left 77 people dead.
Breivik was sentenced last week to 21 years in prison by a court in Oslo, although his term can be extended if he continues to be deemed a threat to society. He has said he will not appeal.
'More secure future'
Mr Stoltenberg was speaking at a session of parliament convened to discuss the 500-page report, following an inquiry into last July's bomb attack in Oslo and shootings on the island of Utoeya.
The report found that police had taken an "unacceptable time" to reach Utoeya and it criticised forces for the bungled attempt to reach the island on an inflatable boat.
The inquiry team also questioned why the street outside the prime minister's office, Grubbegata, was not closed to traffic as recommended seven years before.
Listing the main conclusions of the report, Mr Stoltenberg admitted the shortcomings in the way the authorities dealt with the killings, adding: "For this I apologise."
"We can never correct mistakes made in the past, but we can learn from the past," he told parliamentarians. "And to do that we must create a more secure future."
He also announced new measures to improve security, including providing police with military helicopters, boosting funds for the police and improving emergency exercises at all levels of "public administration".
Mr Stoltenberg has faced strong criticism following the findings of the report, including calls to resign. He had previously won approval for his statesmanship in the aftermath of the disaster.
On Friday, Breivik said he would not appeal against his sentence as it would legitimise the court. Prosecutors - who had sought an insanity ruling - also told the Oslo court they would not appeal.
Breivik said he did not recognise the court, which he contended had "sided with the multicultural majority in parliament".
He went on to say: "I wish to apologise to all militant nationalists in Norway and Europe for not managing to kill more people" - but was cut off by the judge, who said this was not the time to address people outside the court.
Breivik will serve his sentence at Oslo's high-security Ila Prison, where he has been held in isolation for most of the time since his arrest.
The 33-year-old's attacks on 22 July 2011 began with the bombing of government buildings in Oslo, killing eight people.
Later in the day, he boarded a boat to the Utoeya island, where he shot dead 69 people at a Labour Party youth camp.