German leaders dismiss call for Greek euro exit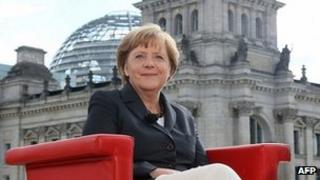 Germany's centre-right government has criticised a leading conservative politician for suggesting that Greece will have to leave the eurozone.
Foreign Minister Guido Westerwelle said "bullying" of Greece must stop.
And in a TV interview Chancellor Angela Merkel said "everyone should weigh their words very carefully".
Earlier, Christian Social Union general secretary Alexander Dobrindt, an ally of Mrs Merkel, said he expected Greece to leave the eurozone in 2013.
He said he saw "no way round" a Greek exit. He also called the European Central Bank (ECB) chief Mario Draghi "Europe's currency forger".
His party, a junior coalition partner of Mrs Merkel's Christian Democrats (CDU), is preparing for an election in Bavaria and Germany's general elections next year.
Last week Mrs Merkel reiterated that she wanted Greece to stay in the eurozone. And on Sunday she told German ARD television that "we are in a very decisive phase in combating the euro debt crisis".
Greece is under pressure to speed up far-reaching reforms, including privatisation and civil service job cuts, in order to continue receiving instalments of its 130bn-euro (£103bn; $163bn) international bailout.
It is the second massive bailout agreed for Greece since the 2008 debt crisis shook the global economy and German politicians have made it clear they will not stomach a third.
Dispute over ECB role
Mr Westerwelle warned that remarks like Mr Dobrindt's could harm Germany's reputation as the eurozone tackles the debt crisis.
Comments by the head of Germany's Bundesbank, Jens Weidmann, also signalled divisions at the top over the ECB's handling of the crisis.
In early August Mr Draghi announced plans for the ECB to buy the bonds of countries like Italy and Spain, whose borrowing costs have reached levels widely regarded as unsustainable.
He is expected to give details after a 6 September meeting of the ECB's governing council.
But Mr Weidmann, one of 17 eurozone central bank chiefs involved in ECB policy, said the plans risked making central bank financing "addictive like a drug" for struggling eurozone governments.
He warned that it was "close to state financing via the printing press" and could be a violation of EU rules preventing government-to-government subsidies.
Traditionally the ECB has been reluctant to undertake large-scale bond-buying because it is seen as inflationary, and the ECB's priority is to keep inflation under control.
But during the eurozone crisis the ECB has been buying up sovereign debt to help ease the market pressure on struggling, debt-laden eurozone countries.
At the weekend the German and French governments indicated that Greece's plea for a two-year "breathing space" in meeting its bailout obligations was unacceptable.
Eurozone leaders are waiting for a crucial report on Greece's finances, due in late September. It will be delivered by the troika supervising Greece's fulfilment of the bailout conditions - the ECB, International Monetary Fund (IMF) and European Commission.
Greece's continued access to the bailout lifeline depends on a favourable report from the troika.
Athens is trying to finalise a package of 11.5bn euros of spending cuts over the next two years.