Camorra mafia boss shot at beach resort in Italy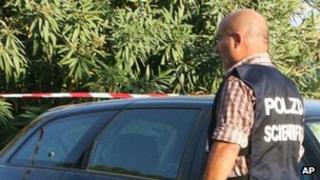 Police in Italy are hunting the killers of a Camorra mafia boss who was gunned down on a beach south of the capital, Rome, in front of terrified bathers.
Two men attacked Gaetano Marino, who was reportedly shot when he came out of the water at Terracina to answer a call on his mobile phone.
Marino, 48, was dubbed Stumpy after losing both his hands while reportedly planting a bomb in the 1990s.
One reported theory is that he was killed as part of a power struggle.
He headed the Scissionisti clan in Naples, the Italian news agency Ansa reports.
His killing on Thursday came a month after a similar attack in a public square in the coastal town of Nettuno, also south of Rome, when organised crime suspect Modestino Pellino was shot and killed.
Italy's public broadcaster Rai screened a gala show in February which featured a tribute to Marino by his young daughter, where she called him in a song "the world's most beautiful daddy". Marino himself was in the audience.
Roberto Saviano, the anti-mafia journalist and author, accused the channel of pandering to criminals. A Rai official said the show had been purchased from an outside producer.
Swimming trunks
Photos from the scene in Terracina, a town 100km (60 miles) south of the capital, show the bloodstained body of Marino, dressed only in swimming trunks, lying on the ground.
He was hit by at least four shots to the head and another five or six to his back, police were quoted as saying by the Associated Press news agency.
His family had apparently gone ahead of him back to the hotel.
According to Ansa, Marino had bodyguards but the killers struck so fast they were unable to intervene.
The two suspects escaped in a grey car.
In recent years, a number of street killings in the Rome region have been blamed on gangsters from Naples and southern Calabria, raising fears that the mafias there are seeking to expand to the capital.