Greenpeace activists board Russian Gazprom oil platform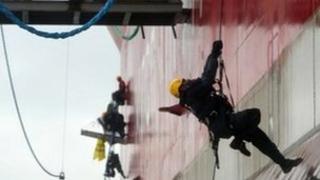 Six Greenpeace activists have boarded a Russian offshore oil rig in protest over gas and oil exploration in the Arctic, the group says.
The activists, which include the organisation's executive director, reached the Prirazlomnaya platform by speedboat early on Friday.
They say they have enough supplies to last several days.
The group says drilling plans by Russian energy giant Gazprom are "dangerous" and should be abandoned.
It says the company - which operates the Prirazlomnaya platform - has an inadequate plan for dealing with any oil spill in the fragile environment.
'Reckless plans'
The activists travelled by inflatable speedboats from a nearby Greenpeace vessel and used ropes and ladders to climb up mooring lines, the group said in a statement.
They are now hanging off the platform on small portable ledges, out of reach of its workers, reports the BBC's Daniel Sandford in Moscow.
Greenpeace claims they have "interrupted operations" at the platform.
Speaking on board the platform, Greenpeace International's Executive Director Kumi Naidoo said it was "not a question of if an oil spill will happen, but when".
"The only way to prevent a catastrophic oil spill from happening in this unique environment is to permanently ban all drilling now," he said, according to Greenpeace.
Gazprom is due to be the first company to begin commercial oil production in the offshore Arctic, with drilling to begin next year.
Earlier this month, Greenpeace claimed Gazprom's oil spill response plan went out of date in July and says that - according to the Russian Ministry of Emergency - the company has not submitted or approved a new one. Gazprom was not immediately available for comment.
The far North is seen by many oil and gas companies as the next frontier for fossil fuel exploration.
Last year, the US Geological Survey estimated the Arctic could be home to 30% of the world's undiscovered natural gas reserves and 13% of its undiscovered oil.
But environmental campaigners have warned that the harsh conditions in the Arctic could hamper any emergency response in the case of an oil spill.
Greenpeace has previously occupied vessels operated by Shell and Cairn Energy over the issue.