Rome zoo cools animals with iced food during heatwave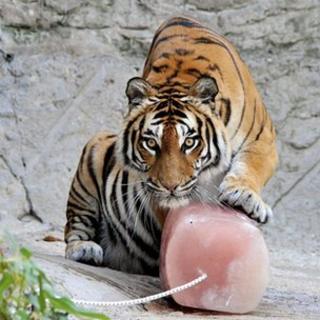 The summer of 2012 has been the hottest on record in many parts of Europe.
In Italy, the year's seventh major anticyclone - nicknamed Lucifer, following on from Nero and Caligula - brought temperatures Tuesday to over 40C (104F) in cities from the north to the south of the peninsula.
Staff at Rome's zoo took precautions to prevent the 1,200 animals living there from suffering heatstroke and dehydration.
They prepared giant ice cubes containing raw meat for the big cats, which include tigers, lions and leopards. Veterinary staff prepared smaller portions than usual and froze the meat with water.
The animals appeared to appreciate the gesture and spent hours licking their iced food.
Extra drinking water fountains were set up inside some sections of the zoo to enable animals to drink and refresh themselves.
Yoghurt and watermelon
During heatwaves like this, tourists in Rome often refresh themselves in many of the city's famous fountains - some of which are still connected to acqueducts first built by the ancient Romans.
So it seemed only natural to zoo administrators to provide the same sort of facilities for thirsty and hot animals.
Monkeys and other primates received bamboo canes to suck on, filled with frozen yoghurt and watermelon, to help them keep cool.
"In addition to helping the animals keep cool, the iced appetisers stimulate them to search around for other food," said Serena Del Giudice, head of the Zoo's press office.
"The animals must be encouraged to keep moving during this unprecedented heat wave," she added.
Rome's zoo, one of the oldest in Europe, celebrated its 100th anniversary last year. It is now called a Bio-Park for the sake of political correctness.
Mammals, reptiles, amphibians and birds live in a botanical park adjoining one of the biggest public green spaces in the city - the Borghese Gardens. It is visited every year by about three quarters of a million people.
Every day the animals consume about 50 bales of hay and grass, 500kg of green vegetables, and 300kg of fresh fruit, mainly melons and watermelons at this time of the year.
And how do I survive the torrid Roman summer? Well, I am lucky enough to live just outside the city above a volcanic lake which provides an emergency drinking water supply for Rome.
So I take a daily dip in the cooling waters of Lake Bracciano, and then enjoy a refreshing prosecco on the terrace at the end of my day's work.