Suicide bomber kills seven in Russian's Ingushetia region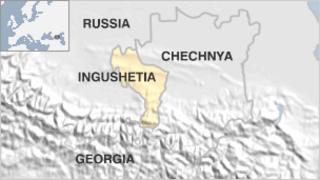 At least seven police officers have been killed in a suicide bomb blast in the Russian Caucasus region of Ingushetia, investigators say.
The explosion took place at the funeral of a fellow officer who was shot dead on Saturday.
Officials said the bomb went off as policemen entered the yard of the house where the funeral was taking place.
Russia is fighting a radical Muslim insurgency in the Caucasus and militant attacks are a regular occurrence.
Several others were wounded in the explosion, officials told Interfax news agency.
The attack came hours after gunmen in Dagestan opened fire in a mosque, injuring several people who had gathered to celebrate the end of Ramadan. A bomb discovered at the site was deactivated.