Churches in Polish-Russian appeal for friendly ties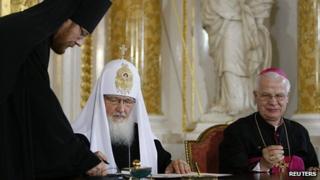 The heads of the Russian Orthodox and Polish Roman Catholic churches have jointly urged their nations to end their mutual bitterness and distrust.
The appeal for Polish-Russian reconciliation was signed at Warsaw's Royal Castle, by Russia's Patriarch Kirill and Archbishop Jozef Michalik.
They called for "forgiveness of wrongs, injustice and every evil committed against each other".
Russia and Poland have been divided by politics and religion for centuries.
The joint text said "we are certain that this [forgiveness] is the first and the most important step toward rebuilding mutual trust, which is a necessary element of a lasting community and full reconciliation between people."
The two leaders also vowed to defend "the right to religion being present in public life", the AFP news agency reported.
"We are witnesses to the promotion of abortion, euthanasia, homosexual marriages and consumerism," the text said. "Traditional values are being rejected and religious symbols being removed from public spaces."
Patriarch Kirill's visit was overshadowed by the Pussy Riot trial in Moscow - a case which has drawn attention to the Orthodox Church's close ties to the Russian state.
The three punk performers were found guilty of hooliganism on Friday for their stunt in Moscow's main cathedral, Christ the Saviour, in which they shouted abuse against President Vladimir Putin from the altar.
Gradual improvement
Poland has a small Orthodox community but is overwhelmingly Roman Catholic.
The four-day visit by Patriarch Kirill is the culmination of three years of talks between the two churches, the BBC's Adam Easton reports from Warsaw.
Relations have been difficult, our correspondent adds. The Russian Orthodox Church has accused Roman Catholic priests of trying to poach believers in Russia and Ukraine.
Patriarch Kirill is closely identified with the Kremlin, having backed Vladimir Putin's re-election as president this year.