'Anglo The Musical' - Is there a funny side to the Irish banking disaster?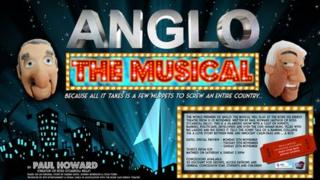 From boom to bust to bail out, the Republic of Ireland is still suffering badly from the fallout of financial meltdown.
Amidst recession, depression, public spending cuts, high unemployment and low national morale, there hasn't been too much to laugh about in the last few years.
But is it too soon to joke about a national disaster? The team behind a new Irish stage production believe that a bit a satire is "long overdue".
Anglo, The Musical, is due to opens at a Dublin theatre in November, and has already sold 40% of the 10,000 tickets for its five-night run.
To many, the dramatic collapse of Anglo Irish Bank has come to epitomize the swift rise and even faster fall of the Celtic Tiger economy.
The scandal encompassed the worst financial loss in Irish corporate history, the bankruptcy of Ireland's richest man and has resulted in some of the state's former top bankers appearing in the dock of Dublin's criminal court.
Now, a group of comedy writers have decided the time is right to make a song and dance out of a real-life drama that is still being played out on daily basis in the country's courts and newspapers.
Darren Smith, producer and co-creator of the show, described it as "an across the board, long overdue roast of the boom and bust years" and said it was "in many ways, "Celtic Tiger, The Musical".
"We're kind of an equal opportunites mickey-taker. So obviously the politicians, the bankers, the builders, the developers and all those will be getting it, but so will the cab driver who bought four houses in countries like Bulgaria, though they didn't even know where they were," he told BBC Radio Ulster.
With songs such as "Put A Zero On The End, He's A Friend" and Where Have All The Fat Telly's Gone?" the main players in Ireland's economic downfall are played by muppets.
The former Irish Prime Minister, Bertie Ahern, is cast as a "humble valet", whose daily role is to wash and dress Sean FitzPatrick, the former chief executive and then chairman of Anglo Irish Bank.
The production team behind Anglo, The Musical, also includes the writers Johnny Morrison, Colm Tobin and Paul Howard.
Their other comic creations include Dustin the Turkey, the puppet which represented Ireland in the 2008 Eurovision song contest.
Howard is a former sports jounalist and the author of the Ross O'Carroll Kelly book series - a wealthy, rugby-loving fictional character from south Dublin.
Darren Smith said the Anglo idea was first concieved about a year and a half ago, and "was probably one of those ideas that should have stayed in the pub".
However, he said it gathered momentum and they have been taken aback by the interest from the Irish public.