Hungarian government 'traps' graduates to stop brain drain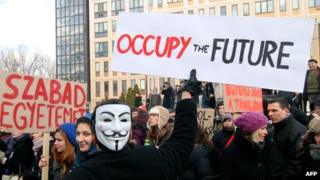 Hungarian students receiving state-sponsored university places have been told they must remain in Hungary for at least 10 years after their graduation - but does this move to halt the country's brain drain violate EU freedom of movement laws?
Gergo Birtalan watches the Danube flowing past with a glum expression.
We are on Margitsziget, the gorgeous green island in the middle of Budapest, where the authorities have laid on a giant party for school leavers.
Hundreds of young people are pouring across the bridge into a park where rock bands are setting up alongside snack stands and beer stalls.
Gergo has also just finished high school but he is not joining in the celebrations. He feels that his ambitions have been crushed.
This February, just a week before the deadline to apply for university, tens of thousands of Hungarian teenagers got a nasty surprise.
As part of its austerity measures, the right-wing government announced it was cutting the number of state-funded university places by almost 40%.
Prime Minister Viktor Orban argued that the country had too many graduates chasing too few jobs and announced that the state would continue to fund subjects like engineering, but would drastically reduce support for other subjects like economics and law.
From early childhood Gergo dreamed of becoming a lawyer - but now only the top 50 students across the country will get a free place to study law.
The unassuming, bespectacled 18-year-old is confident that last year he would have been successful but now he feels his chances are slim.
"I picked sociology as my second choice," he says. "But that's not what I expected, not what I wanted and not what I worked for. So now I'm forced to study something that doesn't really interest me."
Gergo, who comes from a small town outside Budapest, says he cannot afford to pay tuition fees. He is reluctant to take out a loan and his parents cannot support him.
They might have been able to save up if they had known earlier on about the new rules but there was almost no time to prepare. Hungary 'traps' graduates to stop brain drain
Young and jobless in numbers
75 million
or 12.6%
of young people are
unemployed worldwide
Three times
more likely to be jobless
7.5 million
are not in education or training
Youth unemployment is highest in
North Africa - 27.9%
and lowest in
East Asia - 9%
"With a law school degree I could have got a good job. I'd be paying taxes and contributing to my community," Gergo says.
"We all want to be good citizens but the government is denying me that chance."
Plugging the brain drain
Even for the lucky students who can study what they like and get a free state-sponsored place, there is a catch in the new higher education law.
They have to sign a contract promising to stay in Hungary for several years after graduation.
The idea is to pay the state back for investing in their education. The longer they study, the longer they have to stay.
For example, the annual fees to study medicine is around two million forints (£6,000; 7,175 euros) and most young medics will be grounded for at least a decade, considering the length of their study.
But perhaps the state has a point. Why should the hard-up Hungarian government pay to train doctors if they immediately leave for better paid jobs in Western Europe or the US?
"I get that, but why should university graduates stay in Hungary if they have terrible work conditions and they don't really have a chance of making a living here? Not everyone's a messiah or a missionary," Gergo says.
He adds that one of the pillars of the European Union is the free movement of the workforce.
Student representatives, parents and teachers' groups have officially complained to the European Commission about the travel ban on graduates, claiming that it violates the Lisbon Treaty.
Many have also argued that the new measures are at odds with Hungary's own laws. The Constitutional Court did consider the matter but the judges later backed down.
Dorottya Karsay, a 27-year-old activist with cropped hair and intense brown eyes, understands Gergo's acute sense of disappointment.
"We didn't grow up in a world like this," she tells me in a cafe not far from the Hungarian parliament.
"When we grew up, there was this dream that everything is going to change. We were entering democracy and the EU, and Hungary was going to be different and a great place to live.
"It's becoming clear that this is not a place where we want to live."
Dorottya is not surprised by recent surveys which suggest that one out of two Hungarians under the age of 30 is thinking of leaving the country.
"Now with this new law, it's just easier and a better option for your future to go to university abroad because you'll have more opportunities and no-one is going to tell you what to do or what you should study," she says.
In a recent television interview, referring to the mass exodus of young people, the prime minister said that parents do not have children so that their offspring will just send them postcards from abroad. He urged young people to stay at home and support their families.
"Of course we would do that if we were able to have a lifestyle and a standard of living which is worth staying for," says Dorottya.
"At the moment, there is very little reason for many of us to stay, especially when the environment is like this."
Student contracts
Back across the bridge on Margitsziget, the party is well underway.
The students already know their exam results although they do not yet know if these are good enough to get into their chosen university or college.
At eight o'clock each university states how many points are needed for both free and self-funded places. The numbers go up on a giant screen on the stage.
A TV presenter with a fixed grin starts the countdown and the whole event is a bit reminiscent of the national lottery.
Just like the lottery not everyone can be a winner. Some students are jumping for joy and cheering wildly. Some have tear-stained faces, like one girl who misses getting a place to read psychology by just two points.
Others, like a would-be dentist, are too busy celebrating and drinking beer to think about the future.
But Gergo is not in a party mood. As expected, he does not get one of the 50 state-funded places to read law and has to go for his second choice.
He makes his way to the front of the stage, grabs the microphone and using strong language tells the crowd that he has been locked in the country by his own government.
Later he apologises for swearing.
"I'm not proud of that but it was a really spontaneous moment and I was really angry and frustrated," he says.
"Of course it's good that I'm going to university this year and I don't have to pay for it but the whole thing is just basically a student loan with a lot of catches.
"I have to sign a student contract which binds me to the country for six years if I finish my studies in time and this affects me terribly."
Lucy Ash presents Generation E on BBC Radio 4 - listen again via the Radio 4 website or download