Basque co-operative Mondragon defies Spain slump
By Tom Burridge
BBC News, Arrasate, Spain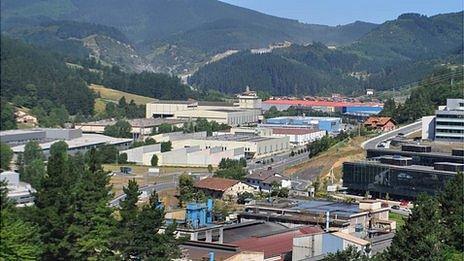 Economic success stories are rare in recession-hit Spain these days but one can be found in the small northern Basque town of Arrasate, nestling in rolling green hills.
Here lies the headquarters of Mondragon, reckoned to be the world's largest worker co-operative. The name is the same as the town's, when translated from Basque into Spanish.
The unemployment rate in the Basque Country is 15%, and lower in the province of Guipuzcoa, where Mondragon is based. The rate in Spain as a whole is now 25%.
The Mondragon co-operative is a collective of around 250 companies and organisations. They include Mondragon Assembly in Guipuzcoa, which employs some 85 people.
The firm produces machines for making industrial components, for example the room-sized plant for making solar panels.
According to the company's commercial director, Inaki Legarda, government subsidies for renewable energy have dried up in much of crisis-hit Europe, and therefore, so has much of the company's business closer to home.
"We used to sell a lot in Spain and in Europe," says Mr Legarda, but the company is now targeting places like South Africa, Brazil, China and North Africa.
Their two biggest projects at the moment are in Kazakhstan and Lithuania.
Partly because of falling sales closer to home, Mondragon Assembly had to lay off several workers throughout 2008 and 2009.
But those workers who lost their jobs were taken on by other companies within the co-operative.
By 2010, the company's fortunes were on the up again, and those people were able to return to their former jobs.
"Today we fortunately have work for everybody," says Mr Legarda.
"We are actually recruiting people from other companies within the group because they are now having tougher times than us."
Fagor Arrasate is another company within Mondragon, which employs around 600 people. They make house-sized machines which manufacture parts for cars.
The majority of the firm's workers are "socios", which translates literally as "members", but also means they are all shareholders in the business.
The socios, some of whom are managers, all have one vote in a general assembly, which makes important decisions affecting the business.
Other decisions have to be approved by a governing council, elected by the assembly.
Anoitz, a 34-year-old engineer working at Fagor Arrasate, argues that "if many people are thinking about a problem, then the solution is better".
An example he gives is that if the business is not doing well, the employees can vote to reduce their own salaries.
Interestingly, the pay of bosses working at Mondragon is capped at six times that of the average worker.
Oskar Goitia, head of Mondragon Automocion, a conglomerate of Mondragon firms which do business in the automotive sector, says that for the business model to work it requires "consensus".
He admits it "takes a little bit more time to explain what the plans and projects are.
"But once we agree… it's much easier because everyone pushes in the same direction."
Firms within Mondragon are not immune to the eurozone crisis, but none of its companies has gone out of business.
And although the Basque economy is expected to shrink by around 1.2% of GDP this year, and the Spanish economy by approximately 1.5-1.8%, many of the co-operative's companies are doing more of their business further away from home.
However, according to Manuel Escudero, an economist at the prestigious Deusto business school in Bilbao, the Mondragon model is difficult to export.
He argues the region enjoys "a deep culture of egalitarianism".
And that is why, he believes, so far people who have travelled to Mondragon to learn about the co-operative have been unable to replicate this particular business model elsewhere.
Related Internet Links
The BBC is not responsible for the content of external sites.