Russia denies warships heading for Syria's Tartus port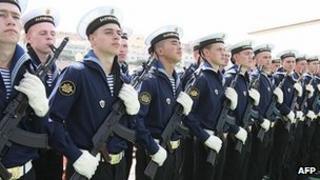 Russia's defence ministry has denied that three large Russian landing ships carrying hundreds of marines will soon visit the port of Tartus in Syria.
Earlier reports, quoting a source at the Russian general staff, said the ships would spend a few days in Tartus.
The ships, each with up to 120 marines on board, would take on fresh supplies of food and water, the source said.
Russia, a key ally of Syria's President Bashar al-Assad, has a small naval maintenance facility at Tartus.
The Russian defence ministry left open the possibility that the ships might dock there at some point for logistical reasons, saying they had every right to do so.
Russian officials have dismissed speculation that their military could intervene in war-torn Syria to bolster Mr Assad's regime.
Fighting raged on Friday between government forces and Free Syrian Army (FSA) rebels in Aleppo, Hama and the capital, Damascus.
Any Russian military visit to Syria would be a sensitive issue, because Mr Assad's forces rely on Russian military hardware.
The three Russian amphibious assault ships are in the Mediterranean now. The general staff source, who was not named, had said that after calling in at Tartus they would head for the Bosphorus and the Russian Black Sea port of Novorossiysk.
The ships, part of Russia's Northern Fleet, are the Alexander Otrakovsky, the Georgy Pobedonosets and the Kondopoga.
The source, quoted by Interfax news agency, said one would anchor off Tartus and the other two would use a floating dock, because the port facilities were limited.
There is speculation that Russia may begin evacuating its nationals from Syria and deploy marines to protect personnel and equipment, as the violence intensifies.
Some 30,000 Russian citizens live in Syria, according to reports in the New York Times and Financial Times.