Pussy Riot trial: Putin urges leniency for Russia punks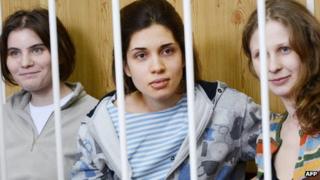 Russian president Vladimir Putin says Russian punk trio Pussy Riot should not face tough sentencing for their protest against him in Moscow's main cathedral.
The female musicians are on trial over hooliganism charges after a video of their anti-Putin song appeared online.
"There is nothing good in what they did [but] I don't think they should be judged too severely," Mr Putin told reporters in London.
The musicians reject the charges in the case, which has divided Russia.
Nadezhda Tolokonnikova, Mariya Alekhina and Yekaterina Samutsevich have been in jail since February, when they were arrested after storming the pulpit of the Christ the Saviour Cathedral in Moscow.
Protest performances
The punk trio danced in the Orthodox church while wearing garish colours and masks, chanting "Mother Mary, drive Putin away".
It was one of a number of performances intended as a protest against Mr Putin in the run-up to Russia's presidential elections in March.
The trial, which began on Monday, has caused major debate in Russia.
The song outraged the Russian Orthodox Church, which accused Pussy Riot of blasphemy and has asked for severe judgement.
Supporters, on the other hand, say the case reflects the state's growing intolerance of government opponents.
On Wednesday, medics were called to the court when the women said they felt unwell.
The defendants say they are being deprived of sleep and are poorly fed, according to a defence lawyer.
If convicted of hooliganism, they could face up to seven years in prison.