Member of Russian band Pussy Riot falls ill at trial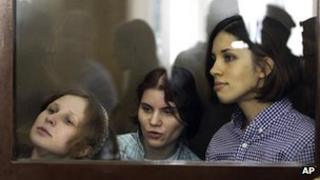 One of the three members of Russian punk band Pussy Riot, on trial for an anti-Putin protest at Moscow's main cathedral, has been given medical treatment in court, a lawyer says.
Medics were called when the women said they felt unwell on the third day of the trial on Wednesday, the court said.
The defendants say they are being deprived of sleep and are poorly fed, according to a defence lawyer.
They deny hooliganism charges in the case, which has divided Russia.
Nadezhda Tolokonnikova, Mariya Alekhina and Yekaterina Samutsevich were taken into custody in February after performing a protest song against President Vladimir Putin at Moscow's Christ the Saviour Cathedral.
The song outraged the Russian Orthodox Church, which accused them of blasphemy. Supporters say the case reflects the state's growing intolerance of government opponents.
The first prosecution witness called on Wednesday testified that he was not in the cathedral during the performance and had only seen it on video, the BBC's Daniel Sandford reports from the courtroom.
'Punishing regime'
Proceedings were interrupted for several hours to allow Ms Alekhina to be given treatment after a fall in her blood sugar levels, defence lawyer Nikolay Polozov told Russian media. He added that Ms Alekhin was a vegan and needed a special diet.
Later on Wednesday, there was a further interruption when Ms Alekhina again repeatedly complained about feeling poorly, according to media reports.
Mr Polozov told the Interfax news agency that the defendants have been subjected to a punishing regime since the start of their trial.
"For a third day running, the girls have been woken at 5am, held in a 1sq m (11sq ft) unventilated room, after which they are taken to court," he said.
"They are not fed, and court sessions last up to 12 hours, during which they are only given 20-30 minutes for a small snack of dry rations. They are then taken back to remand after midnight. They are also denied an evening meal and can only sleep for small number of hours."
The women are facing the charge of hooliganism motivated by religious hatred or hostility and could face up to seven years in prison.
At the start of their trial on Monday, the three pleaded not guilty, but apologised for the offence their performance had caused.
The case has divided Russia, with many feeling the women are being made an example of as part of attempts to clamp down on the opposition.