Profile: Prime Minister Ivica Dacic of Serbia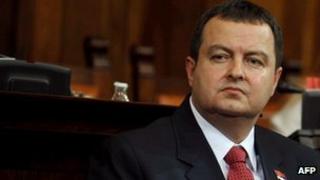 Serbian Socialist Party leader Ivica Dacic has been sworn in as prime minister of Serbia, two months after parliamentary elections.
His government has been formed from a coalition of President Tomislav Nikolic's nationalist Progressive Party and other groups.
During the Yugoslav wars of the 1990s, Mr Dacic served as spokesman for the late former President, Slobodan Milosevic.
This association earned him the nickname "Little Sloba" - although he is not the only Socialist politician to be labelled in this way.
Commenting on his history with Milosevic, he said in 2009: "The past is of no interest to me because I cannot change it but we can do something to change our country's future."
The nationalist leanings of Mr Dacic, who was born in Kosovo, have generated speculation about the new government's policy towards the breakaway territory, which may have implications for the country's application for EU membership.
However, Serbian magazine Vreme recently said that Mr Dacic's fundamental principles had been obscured by the complexity of the agreement signed with his coalition partners.
EU accession and Kosovo
Under the former government, Serbia earned EU candidate status and Mr Dacic has pledged his determination to begin accession talks. He also said recently: "Everything that the previous government has accepted so far in the talks with Brussels will be implemented."
However, the issue of Kosovo could prove problematic.
While the EU has said that recognition of Kosovo is not a prerequisite for Serbia's accession, it opposes the division of the new state into separate Serbian and Albanian entities - a policy said to be favoured by Mr Dacic.
Mr Dacic recently said that although Serbia would not recognise Kosovo's independence, it would "co-operate with all the countries of the world, advocate security, stability and good relations in the western Balkans and hold out its hand in reconciliation".
Such statements contrast starkly with his earlier stance on the issue. In 2006, after being named leader of the Socialist Party, Mr Dacic told a Serbian newspaper that he would have "no problem" with taking up arms to fight for Kosovo as it was something he had done in the past.
If the extent of the prime minister's nationalist leanings remain unclear, his economic policies are more transparent.
In a speech to parliament, Mr Dacic said economic recovery and revival were "the national priorities of our time", He also pledged to clamp down on crime and corruption.
On 12 July, he controversially dubbed the financial sector as "the greatest enemy of the people", fuelling speculation of a showdown with central bank governor Dejan Soskic.
BBC Monitoring selects and translates news from radio, television, press, news agencies and the internet from 150 countries in more than 70 languages. It is based in Caversham, UK, and has several bureaux abroad. For more reports from BBC Monitoring, click here