Chinese solar panel firms fear Europe trade war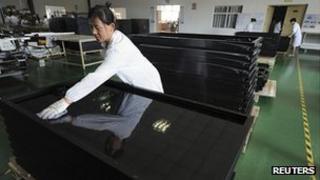 Chinese solar panel manufacturers have urged Beijing to respond to a threat of European anti-dumping restrictions.
The plea came after European competitors asked the EU to investigate whether China was helping its firms to export cheaper panels unfairly.
Four big Chinese solar panel firms asked their government to "immediately seek high-level dialogue with the EU to find a way to improve the situation".
In May the US imposed tariffs of about 31% on solar panel imports from China.
The US Commerce Department ruled that Chinese firms were flooding the US market with government-subsidised products.
Most of the top Chinese exporters are affected, including Suntech Power Holdings and Trina Solar.
The ruling came after several US manufacturers, led by SolarWorld, asked for government action against Chinese companies dumping low-priced products on US markets.
On Thursday the focus switched to Brussels, as the European Commission received a complaint from SolarWorld and other European manufacturers over alleged Chinese dumping.
"Chinese companies are offering their products below manufacturing costs despite their own massive losses," said Milan Nitzschke, president of the manufacturers' group EU ProSun.
Green energy tensions
Bloomberg news says increased Chinese competition has hit European wind- and solar-power firms hard, and several of them now face bankruptcy.
The issue is particularly sensitive for the EU, which has been spearheading global efforts to switch to renewable energy.
Four Chinese firms warned against escalating trade tensions on Thursday - Yingli, Suntech, Trina and Canadian Solar.
"If the EU were to follow the precedent of the US and launch an anti-dumping investigation on Chinese solar products, the Chinese solar industry would suffer a fatal blow," said Wang Yiyu, chief strategy officer at Yingli Solar.
"The investigation would also trigger a whole-scale trade war between China and the EU, which would cause huge losses to both parties," he told a briefing in Beijing.