Poland probes Stalinist WWII burials in Warsaw cemetery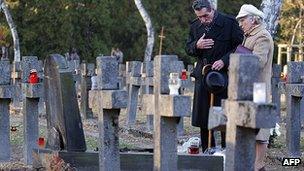 Poland has started digging up part of a military cemetery in Warsaw to find the remains of communist-era terror victims who were buried secretly.
One was Witold Pilecki, an anti-Nazi guerrilla who infiltrated the Auschwitz death camp in 1940 and told the Western Allies about German atrocities there.
Gen Emil Fieldorf was another member of Poland's Home Army executed by the post-war communist regime.
Poland is trying to trace victims of Stalinism from the years 1944-1956.
The effort at the Powazki military cemetery is being driven by Poland's Institute of National Remembrance, Polish media report. The digging is scheduled to continue until late August.
Research into the archives suggests that as many as 284 people were buried at the site in unmarked graves, by the communist secret police.
Many of the victims were active in the Polish underground forces who resisted the Nazis and were then targeted by the Soviet-backed communists, who saw them as a potential threat.
Related Internet Links
The BBC is not responsible for the content of external sites.