Sean FitzPatrick is third ex-Anglo Irish Bank executive to be arrested in 24 hours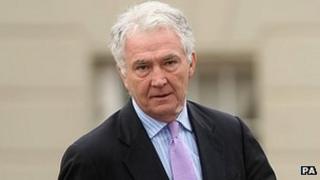 The former head of Anglo Irish Bank, Sean FitzPatrick, has been arrested by Irish police in connection with alleged financial irregularities at the bank.
Mr FitzPatrick has been appearing in court in Dublin.
He is the third former senior executive from Anglo Irish Bank to appear in court within the past 24 hours.
All three men face 16 charges in relation to an alleged failed attempt to prop up Anglo's share price after a stock market collapse.
Anglo was nationalised at a cost of about 30bn euros (£23.4bn) to Irish taxpayers.
Airport arrest
Mr FitzPatrick served as chief executive and then chairman of the bank, building it up to become what at one time appeared to be one of the biggest success stories of Ireland's boom years.
However, Anglo was badly exposed by the bursting of the Irish property bubble and suffered the largest corporate loss in the history of the Republic of Ireland.
Mr FitzPatrick stepped down from his position in December 2008, a month before Anglo had to be bailed out by the state.
Irish police arrested him at about 05:35 BST on Tuesday at Dublin airport and took him to Bridewell Garda station in the city centre.
It is the third time Mr FitzPatrick has been arrested as part of the three-and-a-half year long investigation into the collapse of Anglo Irish Bank.
On Monday, Willie McAteer - the second in command at the bank before his resignation in January 2009 - appeared in court alongside Pat Whelan, a former head of lending and operations at the bank.
Mr McAteer, 60, from Rathgar in Dublin, was granted bail until 8 October but was was ordered to hand in his passport.
Mr Whelan, 50, from Malahide in County Dublin, was also granted bail but was ordered to give 48 hours notice if he is travelling anywhere outside Ireland or the UK.
The former bank is being wound down and is currently being run by the Irish Bank Resolution Corporation Limited (IBRC).