Struggle to identify Bulgaria bus suicide bomber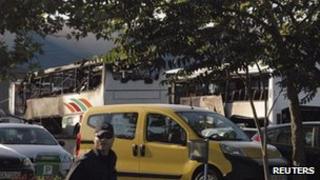 Officials are still struggling to identify a suicide bomber, 48 hours after he killed five Israelis and a local bus driver in Bulgaria.
CCTV footage released earlier from the attack at Burgas airport had shown a white person with long hair.
But a witness said on Friday the suspect was a dark-skinned man with short brown hair and an Arabic accent, and appeared to be wearing a wig.
Fingerprints and DNA samples from the bomber's body are being examined.
The FBI and the CIA are working with Bulgarian investigators on the case.
On Friday, the funerals were held in Israel for the five Israelis - four men in their 20s and a pregnant woman - killed in the bombing.
'Shaven head'
Speaking on Friday, Bulgaria's Interior Minister Tsvetan Tsvetanov said that 3kg (6.6lb) of TNT powder had been used in the attack.
He said the bomber was not thought to be a Bulgarian citizen, and that investigators had ruled out Mehdi Ghezali, a Swedish citizen and former Guantanamo inmate, who was mentioned earlier as a possible suspect.
The suspect tried to hire a car in the days before the bombing, but was turned down because of doubts about his driving licence photo, according to police and the car rental firm.
The attacker had a fake driving licence from the US state of Michigan. According to the AFP news agency, it was registered under the name of Jacque Felipe Martin of Baton Rouge, Louisiana, born in 1987.
Afrodita Petrova, from the car rental company, said: "He had an almost shaven head... His hair was brown."
She said that he was of Arabic appearance, had dark skin and spoke English with an Arabic accent. He also had a lot of money in 500-euro (£390; $610) notes and appeared upset.
Speaking to Bulgarian national TV, she insisted the man was the same person shown in the CCTV footage released by the authorities, and looked like he was wearing a wig.
The footage showed a man going in and out of the terminal, wearing a baseball cap over long blonde hair and carrying a bulky backpack.
Officials believe the backpack carried the bomb which was later placed in the luggage compartment of the tourist bus.
Prosecutors said on Friday that they now believe the man to be short-haired, but that it was unclear whether he was wearing a wig or had a haircut after the footage was taken, AP reported.
Victims buried
On Friday, the funerals were held in Israel for the five Israelis killed.
The victims were childhood friends Yitzik Kolengi, 28, and Amir Menashe, 27; Kochava Shriki, a 42-year-old woman who had recently become pregnant after years of fertility treatments; and friends Maor Harush, 26, and Elior Price, 24.
In a phone call to Bulgarian Prime Minister Boiko Borisov, US President Barack Obama called the attack "barbaric" and offered support for the Bulgarian investigation.
Israel blames Iran and the Lebanese Shia militant group Hezbollah for the blast, in which another 30 people were injured.
Iran responded on Thursday by saying it strongly condemned "all terrorist acts". Hezbollah has not publicly commented on the issue.
US Department of Defence spokesman George Little said on Friday that the attack bore "some of the hallmarks of Hezbollah" but that the Pentagon was "not in a position to make any final determination".
However, a US intelligence source quoted by AP said there was "a high degree of confidence" that the group carried out the attack.
The BBC's Jon Donnison, in Jerusalem, says the attack could be part of a covert but violent war between Israel and Iran. There is a view among some analysts that it could be a response to a series of recent attacks on Iranian nuclear scientists.
Israeli officials have stressed that the bombing resembled several recent attempted attacks on Israeli targets in India, Thailand, Azerbaijan, Kenya and Cyprus.
Bulgaria is a popular tourist destination for Israelis.