Irish government unveils design for memorial to abuse victims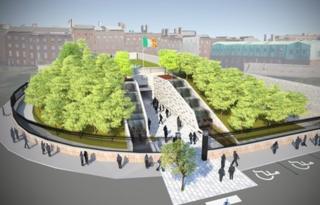 The Irish government has unveiled the winning design of the memorial chosen for victims of institutional abuse.
Journey of Light will be erected next to the Garden of Remembrance in Dublin.
A permanent memorial was recommended three years ago by a public inquiry which examined abuse in Catholic-run children's institutions in Ireland.
The memorial will include the wording of the Irish government's 1999 apology for the suffering of those who were abused while in its care.
It stated: "On behalf of the State and of all citizens of the State, the Government wishes to make a sincere and long overdue apology to the victims of childhood abuse for our collective failure to intervene, to detect their pain, to come to their rescue."
'Darkest chapters'
The apology will be inscribed in English and Irish at a child's eye level on the walls, and in Braille on a bronze plaque at the base of the water feature.
Announcing the winner, the Republic's Education Minister, Ruairi Quinn, said the memorial "will act as a testimony to one of the darkest chapters in our State's history and what we collectively as a society allowed to happen to vulnerable children".
"I hope it will serve as a constant reminder that we must never let such horrendous crimes against children happen again and we must strive to protect all of our children," Mr Quinn added.
The memorial was by designed by Studio Negri and Hennessy and Associates.
It was commissioned following the publication of the Commission to Inquire into Child Abuse, chaired by Mr Justice Sean Ryan, in May 2009.
Known as the Ryan report, the nine-year government-backed inquiry investigated a 60-year period from the 1920s to the 1980s.
Failed
It found that Catholic Church church leaders knew that sexual abuse was "endemic" in boys' institutions in the Republic and that neglect and physical and emotional abuse were a feature of many industrial schools and reformatories.
It concluded that church officials encouraged ritual beatings and consistently shielded their orders' paedophiles from arrest.
The Ryan report also said that government inspectors failed to stop the chronic beatings, rapes and humiliation of children.