Assisted suicide: Germany loses Strasbourg court case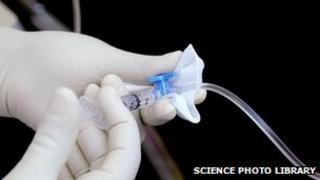 European Court judges in Strasbourg have ruled against Germany in an assisted suicide case, saying a widower's rights were infringed.
Ulrich Koch challenged the German ban on actively helping someone commit suicide. His paralysed wife died after taking poison in Switzerland in 2005.
The judges did not rule on the ban, but said the German courts should have examined Mr Koch's complaint.
On assisted suicide, the judges said it was up to individual nations to decide.
The European Court of Human Rights (ECHR) ordered Germany to pay Mr Koch 2,500 euros (£1,600; $2,460) in damages and 26,736 euros for legal costs.
There was a violation of Article Eight of the European Convention on Human Rights (right to respect for private and family life) because of the German courts' refusal to examine the merits of Mr Koch's complaint, the ruling said.
After suffering a bad fall in 2002 Mr Koch's wife needed artificial ventilation and constant nursing care. She wanted to end her life, but Germany's Federal Institute for Drugs and Medical Devices refused to let her do so with sodium pentobarbital.
Mr Koch's challenges on her behalf got nowhere in Germany as the courts cited the existing ban on active assisted suicide.
The Dignitas facility in Switzerland later enabled Mrs Koch to die.
The Strasbourg ruling on Thursday was only procedural, as the judges noted that there is no consensus in Europe on the ethics of assisted suicide.
The court's research found that only four of 42 states in the Council of Europe allow medical practitioners to prescribe a lethal drug in order to enable a patient to end his or her life.