Nagorno-Karabakh to hold presidential election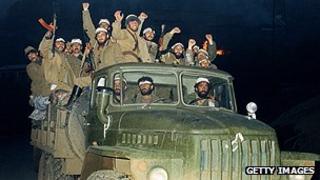 Voters in the disputed territory of Nagorno-Karabakh are due to go to polls on Thursday to elect a new president.
Almost 100,000 voters will choose from among four candidates for the post.
Populated mainly by ethnic Armenians, the territory declared independence from Azerbaijan after the breakup of the Soviet Union in 1991, sparking a conflict in which thousands died.
Azerbaijan has described the poll as a "provocation", and there are fears of a return to full-scale conflict.
"We have every reason to say to the world that we hold elections strictly in accordance with the law," Vasily Atajanian, Nagorno-Karabakh's acting foreign minister told the Reuters news agency,
"We can say that there is no difference between us and democratic Europe," Mr Atajanian added.
Arms race
However, EU foreign affairs chief Catherine Ashton expressed concern over the poll.
"I would like to reiterate that the European Union does not recognise the constitutional and legal framework in which [the vote] will be held," Baroness Ashton said in a statement.
"These 'elections' should not prejudice the determination of the future status of Nagorno-Karabakh in the negotiated general framework of the peaceful settlement of the conflict," she added.
A ceasefire was agreed between the two sides in 1994, but in recent months tension has been rising.
At the beginning of June, at least nine soldiers were shot dead by snipers.
Both sides are engaged in an arms race, investing in more sophisticated weaponry, the BBC's Damien McGuinness reports from the region.
Any return to a full-blown conflict would therefore have even more devastating consequences this time round, particularly if regional allies such as Russia or Turkey were dragged into the dispute, our correspondent adds.