Portugal: Operations cancelled as medical staff strike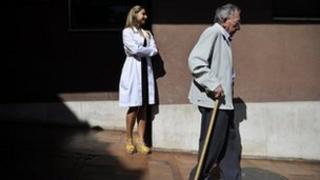 Thousands of doctors and nurses have gone on strike in Portugal to protest against cuts in the health budget.
The health ministry has warned that as many as 4,500 operations and 400,000 appointments may be cancelled.
The government has promised to reduce its budget deficit as part of the 78bn euros (£65bn) EU-IMF bailout deal agreed in May last year.
Unions say the measures, which include higher prescription charges, will affect the poorest in society.
They complain that some doctors are working excessive hours and object to the use of private companies to provide public services.
The strike by medical staff, which began on Wednesday, is due to last 48 hours.
Many hospitals had rescheduled appointments ahead of the action, which was announced last month. Emergency services are unaffected.
The head of the National Federation of Doctors, Mario Jorge Neves, told AFP that he was certain the strike would be a "resounding success".
A spokesman for a patients' rights group in Lisbon, Carlos Braga, told the news agency the number of people who could not pay for healthcare was rising.
"Thousands of people are now deprived of care because they cannot afford the prices that were put in place in January," he said.
High unemployment
In Lisbon, many patients arriving for appointments were unsure whether they would be seen or not.
One patient, Lidia Goncalves told AFP: "I am due to have an operation today but I don't know if it is going to happen. I have been told to wait."
Another, Manuel Silva, said: "I called yesterday but they couldn't tell me if I would be seen. This morning they told me to go home and that they would contact me soon."
Portugal has already cut public sector wages and raised taxes to reduce its budget deficit and deal with its economic crisis.
Earlier this month a proposal to limit extra holiday and Christmas pay for public sector workers was ruled unconstitutional.
The EU and IMF have praised Portugal for the steps it has taken so far.
But BBC correspondents say they have proved painful for ordinary Portuguese, with public sector workers hit particularly hard.
Unemployment is at record highs and many people have faced a steep reduction in income.