Man appears in court over Swedish House Mafia Dublin stabbings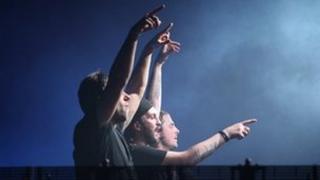 A man has appeared in court charged in connection with a stabbing at a concert in the Phoenix Park in Dublin at the weekend.
Raymond Donnan, 22, from Greenfort Crescent in Clondalkin, Dublin, faces five charges in connection with a stabbing at the concert.
Nine people were injured during the event which was headlined by dance act Swedish House Mafia.
More than 45,000 people were at the concert, which also featured Snoop Dogg, Tinie Tempah and Calvin Harris.
Mr Donnan is accused of assault causing harm, possession of a knife, violent disorder and public order offences.
Garda Sgt Shane McCartin told the court he arrested the accused at the Phoenix Park at 21:55BST on Saturday and when Mr Donnan was charged on Sunday evening he made no reply.
The garda said he was objecting to bail and Judge Miriam Malone adjourned the bail hearing until this afternoon.
Several people were injured - three seriously - in separate stabbings at the concert.
In a statement, the Swedish House Mafia said: "We played a festival in Ireland at the weekend and reports of incidents are coming to us.
"We didn't see anything but have asked for all the info and are respectful of the promoter's need to wait and give us all the clear facts.
"When we know more we will liaise with the festival promoter directly on what we can do to help but for now we have to respect their request to us that we remain quiet and respectful of their event safety processes.
"The festival itself was amazing and we had no idea this had happened and neither did the other numerous artists who played.
"Once we know all the facts we will deal with it in the best way we can. Thank you."
A total of nine people were injured and the condition of those still in hospital has improved.
However, one man is in a critical condition after he was stabbed four times in the back and kidneys.
'Very unusual'
30 other people were also arrested and bailed after being charged with assault, drugs and public order offences.
A man who became ill at the concert and later died in hospital has been identified. He was in his early 20s and from Clonsilla in Dublin.
A post mortem examination to determine the cause of his death will be carried out today.
Meanwhile, a 19-year-old woman has been missing since the concert.
Minister for Justice Alan Shatter has said concert promoters MCD have issues they need to clarify following the incident.
Mr Shatter described what happened as "very unusual" and "unacceptable".
He revealed that the Garda Commissioner will be meeting with the promoters.
He said the gardai had provided the type of policing at the event that has been provided at other concerts where no events of this nature took place.
"Unfortunately there are always some incidents of young people drinking excessively at these events but we've never had a series of stabbings of the nature that occurred.
"And there are concerns about other matters surrounding this event. I know this is something the Garda Commissioner is taking up with the promoters and I'm awaiting his report following that meeting."