Rings flushed down toilet not found after septic tank search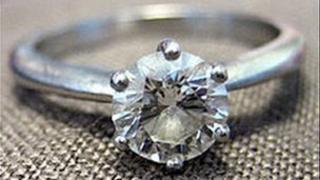 Engagement rings worth 8,000 euros that were accidentally flushed down a toilet have not been found, even after one man entered the septic tank three times.
Drain service and septic tank experts were called on Thursday after a woman flushed her friend's engagement and pre-engagement rings away at a hotel outside Navan in the Irish Republic.
Ashling Cahill, 32, had left the rings from Harrods in London and Fields in Swords, County Dublin, in tissue paper in her wash bag overnight.
Her friend, 31-year-old, Imogen Gunner, flushed them away after the ball of tissue fell.
Jim Phibbs, director of Bluestream Waste Water Services, said his company had offered to help as "it was such a plea for help".
He said 12 men, including those from Bluestream, septic tank company Panda and drain service Dyno Rod, offered to help the girls locate the rings free of charge.
"Imogen called us and a couple of local radio stations got in touch," he said.
"It was such a touching story and we wanted to try and help so the money for new rings did not have to come out of the wedding fund."
Mr Phibbs said this was a first for his company and although the whole operation took almost eight hours, and involved one man entering the septic tank with oxygen tanks, the missing rings could not be located.
"This was a complex operation," Mr Phibbs said.
He explained how he first sent cameras down the toilet at the Bellinter House Hotel to make sure the rings were not in the drains.
They were then left with no option but to send a man in after a vacuum filter which emptied the septic tank failed to find anything.
"The guy, who has confined space training, went down three times with oxygen tanks each lasting 20 minutes, " he added.
"This really was a last resort. We couldn't have done anything more".