Ukraine Lutsenko arrest 'violated rights', says court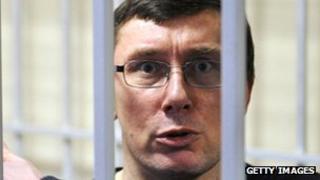 The arrest and detention of a former Ukrainian minister has been condemned by the European Court of Human Rights.
Yuri Lutsenko, 47, was arrested in December 2010 and sentenced in February 2012 to four years in prison for abuse of office and embezzlement.
The court found on Tuesday that his arrest was "arbitrary", and a number of his human rights had been breached.
Mr Lutsenko was an ally of Ukraine's former Prime Minister Yulia Tymoshenko, who was jailed in October 2011.
He served as interior minister in Mrs Tymoshenko's government and was a member of the opposition party Narodna Samooborona (People's Self Defence).
Ammunition for critics
The European Court of Human Rights stated that Mr Lutsenko's arrest had been arbitrary; that no valid reasons had been given for his detention; that he had not been duly informed of the reasons for his detention; and that the lawfulness of his arrest and detention had not been properly reviewed.
His failure to admit his guilt had been used as grounds for his pre-trial detention which "ran contrary to the elements which made up the concept of a fair trial", the ECHR said.
"The fact that the Ukrainian courts had relied on those grounds was disturbing, as it indicated that a person might be punished for relying on his basic rights to a fair trial," the court said in a statement.
It held that he should given a payment of 15,000 euros (£12,000) in damages.
Ukraine has not been ordered to set Mr Lutsenko free, since the appeal concerned his arrest, rather than the conviction itself.
However, correspondents say it will give further ammunition to opponents of Ukrainian President Viktor Yanukovych, who accuse him of trying to lock up his political rivals ahead of parliamentary elections in October.
The president denies those claims.
Yuri Lutsenko and Yulia Tymoshenko were allies during Ukraine's Orange Revolution, which overturned the discredited presidential election result of 2004, ejecting Viktor Yanukovych from office.
However, Mr Yanukovych won the last presidential election, in 2010, defeating Mrs Tymoshenko.
She was later sentenced to seven years in prison for abuse of office. The European Court of Human Rights is due to hold a hearing on her case next month.