Press says Germany defeated at EU summit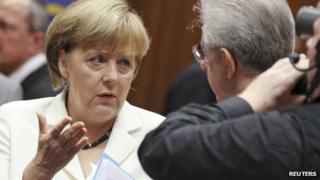 Many European papers agree that Italy and Spain have emerged victorious over Germany at the EU summit in Brussels.
In their web editions, some papers speak of "blackmail" on the part of Rome and Madrid, after EU leaders agreed to facilitate access to the eurozone's planned bailout fund.
Others suggest that German Chancellor Angela Merkel will have a lot of explaining to do back home.
'Monti-Hollande axis'
"The night when Merkel lost", Germany's Der Spiegel says in a headline. "Victory on points for Monti", says the business daily Handelsblatt.
France's Le Figaro agrees that "Italy and Spain succeeded in imposing their will", while for Rome's La Repubblica, the "Monti-Hollande axis wins".
The German weekly Die Zeit is similarly emphatic: "This is a victory for southern countries and a defeat for German Chancellor Angela Merkel," it says.
'Blackmail'
Germany's Frankfurter Allgemeine Zeitung notes that ahead of the summit, Berlin "clearly rejected broadening the tools used in the fight against the debt crisis". It warns that in today's policy statement in the lower house, Mrs Merkel "will have to explain why she consented to the agreements".
Der Spiegel, which speaks of a "risky strategy" on the bailout fund, says the chancellor "is travelling back defeated to Berlin", where she is due to deliver a policy statement in the afternoon.
The French business daily La Tribune notes that Italy and Spain "blocked the adoption of the growth pact until they obtained emergency measures from their eurozone partners".
It adds: "The blackmail seems to have paid off because measures to allow direct recapitalisation of banks have been approved."
'Better than expected'
But leading Italian business daily Il Sole 24 Ore hails "a better result than expected".
"Many details remain to be negotiated and could turn out to be difficult, but in substance the member states of the eurozone yesterday put on the table the first piece of a banking union," the paper says.
For Portugal's Publico, "the fight to protect Italy and Spain was won in the early hours of the morning".
And an editorial in Spain's ABC argues that the common good must be paramount. "It is not just the viability of the situation in Spain and Italy that is in question, what is under discussion is whether the European Union is a real alliance for the common interest," the paper says.
BBC Monitoringselects and translates news from radio, television, press, news agencies and the internet from 150 countries in more than 70 languages. It is based in Caversham, UK, and has several bureaux abroad. For more reports from BBC Monitoring,click here .