Clashes injure dozens as Serbs visit Kosovo battle site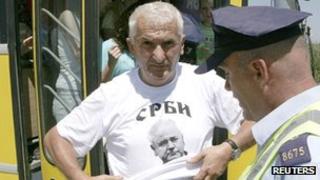 More than 50 people have been injured in clashes between police and Serbs who were visiting a historic battle site in Kosovo.
About 70 Serbs were visiting Gazimestan, near the capital Pristina, site of a 1389 battle that saw the Ottoman Empire defeat the Serb army.
The clashes took place after police said the Serbs were disturbing public order and turned them back.
At least three of the Serbs suffered gunshot wounds, Serb officials said.
Dozens of police were said to have been hurt as the Serbs threw stones.
Police said the Serbs, on two buses, were "very aggressive, drunk and were provoking both police and citizens".
Nato peacekeepers said Molotov cocktails had been thrown at the Serb buses.
"This shameful action is contrary to the integrity of the maintenance of a safe and secure environment for all people in Kosovo," it said in a statement.
Kosovo President Atifete Jahjaga said future groups would be banned "as they are seriously violating law and order and further exacerbating the security situation in Kosovo".
Kosovo's ethnic Albanian majority broke away from Serbia in 1999 and declared independence in 2008, a move that Serbia has so far refused to acknowledge.
A number of incidents have occurred close to the border in the past year, with shots fired at the site of a Serb roadblock in Zvecan in June.