Germany's 'psychic' pets concern animal rights group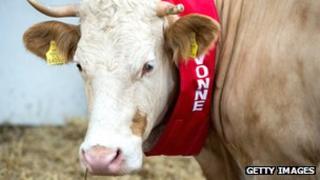 Germany has upset animal rights activists with its latest attempts to predict the outcome of Euro 2012.
Two years after the death of popular pundit Paul the octopus, a range of pets are now being deployed to "predict" which football team will win.
However, Yvonne the cow, Kasimir the alpaca and Xaver the bulldog have upset German animal rights activists.
The country's Tierschutzbund group said it was worried animal oracles had been overused during the tournament.
Television and radio stations across the country have been employing animals to predict results in the tournament, with varying degrees of success.
Marius Tunte of Tierschutzbund told the BBC: "These days, everybody who has an animal seems to put it in front of a camera.
"Every station has its own animal."
The group said the use of animals as psychics threatened the dignity of the creatures.
Stephen Evans, the BBC's Berlin correspondent, said Tierschutzbund took particular exception to an internet radio station which used a python called Ado.
The snake was offered the choice of two rats, one with a stripe representing Germany and the other without a stripe representing Denmark.
The agency said: "Unnecessary suffering is being inflicted purely for the sake of enjoyment."
Yvonne the cow has made a name for herself by managing to predict the loser as the winner.
Other animals hitting the headlines include Emma the pig, Ferret and Mormel the Otters, and Traudl the goat, who has landed a job at a Bavarian radio station.
Paul the octopus retired at the grand old age of two, after a heavy summer working on the World Cup 2010 circuit.
He made headlines around the world with a string of correct predictions, which he made by selecting a mussel from boxes bearing teams' national flags.
While he originally hailed from Weymouth, UK, Paul spent most of his life in the Sea Life Centre in Oberhausen, Germany.
Paul stepped down after the tournament, after which aquarium staff presented him with his very own replica World Cup trophy garnished with mussels.