A refuge for the Roma in Berlin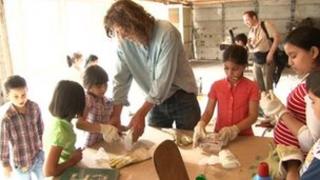 It seems unlikely but Berlin, the very city where the genocide of the Roma (Gypsy) peoples was planned 70 years ago, has become the city where they now find refuge.
In the suburb of Neukoelln, a large complex of run-down apartments is being done up to become comfortable homes for more than 100 families from a dirt-poor village near Bucharest in Romania.
Where the Nazis planned the mass murder of Roma, modern Germans plan comfort and acceptance.
There is no doubt that Europe remains a continent where Roma still face widespread discrimination.
A Swiss magazine recently ran the headline They Come. They Steal. They Go alongside a picture of a Roma boy toting a gun (which later transpired not to be a real one).
And the human rights campaigners Amnesty International reported: "Roma are among the most deprived communities in Europe.
"They suffer massive discrimination and are denied their rights to housing, employment, health care and education. Roma communities are often subject to forced evictions, racist attacks and police ill-treatment."
The German project aims to buck that trend.
'Completely normal'
A series of apartment blocks is, in effect, being transformed into a small village for Roma families.
Rather than scatter them discreetly in a series of small projects, they are being housed in one large complex in the suburb of Neukoelln.
The project manager is Benjamin Marx, a dapper man in his late fifties who exudes both kindness and authority.
He told the BBC: "The idea is to provide homes for people who have been excluded and discriminated against.
"We want to show Berliners that these people are completely normal and can integrate."
He works for a Catholic charity which decided to take over the apartment block because it was in such a bad state.
Roma had ended up there over years of migration, mostly from the village of Fantanele near Bucharest. Their new home in Berlin had a reputation among local people for being dirty.
But when a Catholic housing charity saw what was going on, it decided to transform the place and put Mr Marx in charge.
Now, the housing complex is a buzz of construction. Murals are being painted on outside walls. The apartments are in a classic Berlin block, around a courtyard which is a scene of scaffolding and barrows carting rubbish away.
Rooms are being gutted and refurbished. A small theatre is being constructed as well as workshops and play-rooms.
At Christmas, all the new Roma residents got gifts of oranges.
They treat Mr Marx with great respect and obvious gratitude as he walks around the project.
They are also grateful to Germany.
Their children go to the local school and they say they want to work and make new lives.
'Defying racists'
Olimpia Nitu, who came from Bucharest with her husband and children, told the BBC: "I live here now with my boys and my husband and I want to learn life here step by step.
"I want something new in my life."
Benjamin Marx says that Roma get a bad public image because of the ones who get noticed hustling in city centres - but the ones who integrate, by definition, do not get noticed. His aim is to help the ones who move to Berlin to integrate.
The project is based on optimism but is it starry-eyed, naive optimism?
It may be noble but is it wise to concentrate so many people from a group known to face animosity in one place?
It is the right thing to do, according to Christine Lueders, the head of Germany's anti-discrimination ministry.
"You have to have such projects to show that society is interested in integrating people and not separating people," she says.
"And when racists try to fight against such projects you have to stand in front of them and do something against racism and racists."
More than 200,000 Roma were murdered in the Holocaust. Their surviving relatives sometimes feel they are the forgotten victims, a group still treated badly despite the past.
When the leader of today's Roma walked around the project he was visibly moved, tears misting his eyes.
"What I've seen here gives hope," said Romani Rose, the head of the Central Council of German Sinti and Roma and who lost 13 family members in the Holocaust.
"It shows that there is another way when one at least respects minorities and gives them opportunities in the economy."
There is bright optimism, then, in the city of the darkest pasts - and that is a triumph in itself.