Montenegro set for talks on joining EU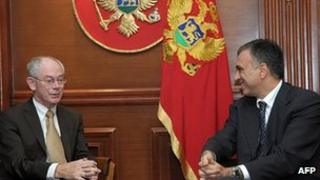 The European Union says it is ready to open formal talks on Friday with Montenegro on the Balkan country's bid to join the 27-nation bloc.
But a statement by EU foreign ministers said Brussels would closely monitor Montenegro's efforts to tackle corruption and organised crime.
Croatia is set to become the 28th EU nation next year. Iceland and Turkey are also negotiating EU membership.
Montenegro, formerly tied to Serbia, could join in a few years' time.
Last month the European Commission reported that Montenegro had made progress towards meeting EU standards, especially in the area of rule of law and fundamental rights.
The ministers on Tuesday urged Montenegro to tackle issues of concern identified by the Commission, "especially the independence of the judiciary, the fight against corruption and organised crime".
The statement says the EU will discuss justice and human rights issues with Montenegro early on, in a new approach aimed at allowing maximum time for reforms to take place.
Those issues were problematic with Bulgaria and Romania, which joined in 2007 but were then subject to special EU measures to tackle continuing deficiencies in those areas.
Montenegro's President Filip Vujanovic said the EU ministers' decision was an encouraging sign for the whole Balkan region, where several countries are in the queue to join the bloc.