Greeks turn to farming as economic crisis bites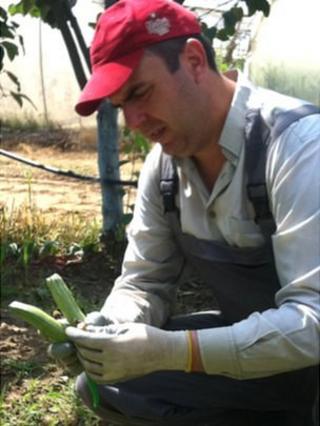 Aristotelis Loukas does not look like a farmer, nor for that matter does he sound like one.
He is working as a farmer, and even dresses like a farmer - but then the overalls and hat do not quite fit: too tight, too new, not clothes in which he looks comfortable.
When we meet, in the hill-country north of Thessaloniki, Mr Loukas is keen to show me his new crop - squash or kolokithi as they call it.
As he digs and gathers, he tells me his story.
"I worked as a sales representative for many years," he explains.
"So many hours in the office, so many hours in my car. Many hours lost from my life."
But those hours, those years of work did not end with happy retirement and a pension.
Instead, while still in his mid-40s, Aristotelis Loukas was made redundant.
Like so many others in Greece nowadays, perhaps 25% of the population, he found himself jobless, unable to find new work, and with a family to support.
But what Mr Loukas did have was an idea.
"I always wondered how it would be to be a farmer," he says.
"Whatever happens with the economic crisis, the sky will still be blue."
'Shocked'
He smiles at his own home-spun wisdom, but despite his rather romantic enthusiasm, Aristotelis Loukas did not simply wander off to a field and start digging.
He enrolled at the "American Farm School" in Thessaloniki, so called because it was founded by a missionary from the US early in the 20th Century - and it turned out that Mr Loukas was not alone in his ambition.
"We have had applications triple in just the past year," says Dr Panos Kanellis, the Farm School's president.
Many of those showing up have good degrees, even MBAs, but still cannot find a job in the Greece of today.
"I was shocked," Dr Kanellis says.
"They wanted to know how they can use a piece of land that their grandfather owned in a village.
"They were trying to find an alternative."
Others who study at the farm school do have jobs, but are learning how to farm as a back-up plan.
These are people like Asteria Chatziargyrou, who holds a senior position in a Greek manufacturing company.
"We are facing some problems this year, and I am not sure I will have a job next year. So farming is a possibility for me," she says.
Ms Chatziargyrou is now cultivating vegetables on land she has borrowed from a professor at the farm school.
Despite working long hours in the city, she drives out there every weekend, and sometimes in the week after finishing at her job.
"We had rain, we had mud, we had cold.
"You have to study and read books, and be continuously in your farm - that's why it's hard."
Vangelis Vergos knows all about the hardship of farming.
He has worked in the industry for decades, and taught at the American Farm School for almost as long.
He clearly admires the get-up-and-go attitude of these new recruits to rural life, who fancy tilling the land instead of joining the dole queue.
He tells me proudly how last week, some of his former students brought round their first crop of courgettes and cucumbers.
'Desperate people'
But Mr Vergos is also worried about the would-be farmers he has recently taught.
"I'm expecting about 1% of them to make it," he warns.
"They need to have some income, and this is a problem at the moment.
"They start without capital - these are desperate people."
And his concerns are not only economic: "Their wives or they themselves are used to a different way of life - they are used to going to cafes, socialising in the afternoons.
"Being a farmer, you have to work 365 days in a year.
"Overnight, you have to change your life completely."
It is a point I put to Aristotelis Loukas, as he carried away his crops to be bagged and hopefully sold.
Certainly, he is aware of the changes demanded of him.
He laughs as he tells me how he used to be an athlete, but then got old and unfit: "Now in my forties, I have to re-make my body."
He looks down at his somewhat rotund figure, and laughs again, a little nervously.
But in that laugh, there is mirth and optimism, as well as apprehension.
"When I look back at my life in the office, I think 'that's the past, now I have better things to do,'" he says.
"At least I don't have thoughts on my mind about banks, about debts. I am okay with my family, and yes, I am happy."