Greek designated finance minister Vassilis Rapanos resigns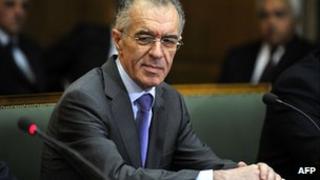 Greece's newly designated finance minister, Vassilis Rapanos, has resigned less than a week after being appointed to the job.
In a letter to new Greek Prime Minister Antonis Samaras, Mr Rapanos said he was stepping down due to ill health.
Mr Rapanos was admitted to hospital last week suffering from abdominal pain, nausea and dizziness.
Mr Samaras is himself recovering from eye surgery which has caused him to miss this week's EU summit.
Mr Rapanos, who is chairman of the National Bank of Greece, was named finance minister last week as part of Greece's new three-party coalition government.
However, he was rushed to hospital last Friday before he could be sworn in and has been in hospital ever since.
The Hygeia Hospital in Athens said on Monday that Mr Rapanos's condition was improving and he was expected to be discharged on Tuesday.
Greek media say Mr Rapanos has a history of poor health.
"The recent incident that led to my admission to a hospital shows that my health problem has not been fully overcome," Mr Rapanos said in his letter of resignation.
He said medical advice led him to determine that: "My health situation, for the time being, is not such that would allow me to fully and efficiently exercise my duties".
The BBC's Mark Lowen in Athens say there has been speculation that Mr Rapanos is unhappy with the make-up of the new cabinet, and other reasons may lie behind his decision to resign.
Several names have been touted as Mr Rapanos's replacement, including the former Prime Minister Lucas Papademos, he says.
The new coalition will be keen to fill the post swiftly, our correspondent adds.
Bailout pressure
Mr Samaras, meanwhile, underwent routine surgery on Saturday for a damaged retina and the operation was said to have been a success.
As well as missing the EU summit, Mr Samaras's health problems also led the "troika" of rescue lenders to postpone a visit to Athens.
Inspectors from the EU, European Central Bank and International Monetary Fund (IMF) had been due to review Greece's progress in meeting bailout conditions on Monday.
Debt-stricken Greece is under huge international pressure to fulfil the terms of its international bailout.
The new government in Athens is seeking to water down the tough requirements imposed on it by the EU and IMF.
Measures it wants to review include extending the deadline to reduce its budget deficit by at least two years, to 2016.
However, Germany is strongly opposing any major concessions.