Breivik trial's effect on the people of Norway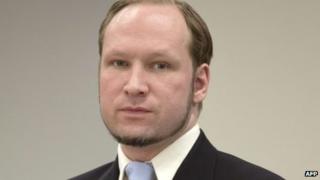 The closing day of the Breivik trial coincides with the last day of school for most children, just in time for traditional midsummer bonfires to be lit across Norway on Saturday.
Most people will visit their cabins or go abroad as Norway unofficially shuts down for parts of July and August.
But this year, they will also be waiting for the judges to deliver their verdict at the end of summer.
The Breivik trial has been painful for Norway. As Trine Aamodt, mother of one of the Utoeya victims, told the media: "Our grief will never pass, and our lives will never be the same."
Hard to avoid
Many Norwegians have chosen not to follow the trial closely in order to avoid becoming absorbed in its horrific details.
As one man told the BBC: "We choose not to think about it because it all just seems so un-Norwegian."
But it has been difficult to avoid the daily dose of unsettling news coverage.
A Facebook status update by one victim on 22 July last year, that was quoted during the proceedings, read: "There are shootings at Utoeya. I love you all."
Although this particular youth survived, the terror of those at the Labour Party summer camp is all too easy for people to relate to.
Democracy limited
In general, the public seem to think the case has been well handled by the court. There have even been whispers that Inga Bejer Engh, one of the state lawyers, may go on to become Norway's first female chief prosecutor.
However, a poll conducted for national broadcaster NRK ahead of the prosecution's closing argument found that three out of four Norwegians believed Breivik was not criminally insane.
That sharply contrasts with the prosecution's argument that doubt about Breivik's mental health means he cannot be sent to prison, but should rather be detained in a mental health institution.
Norwegian lawyer Tor Erling Staff says the decision on Breivik's sanity cannot be a democratic one.
"If questions like these were to be left to the people, one almost wouldn't need courts," he told NRK.
The Breivik trial clearly calls for Norway to look at its justice system with regards to criminal insanity.
The commentator Harald Stanghelle, in the Aftenposten newspaper, argued that the proceedings had seen "two psychiatrists made judges without gowns".
But this egalitarian and peaceful country is ill-prepared for situations calling for a rigorous public debate on legal issues.
Thus, the debate has not been as expansive as one might think, with few new arguments brought to the table even by psychiatrists and lawyers themselves.
Cautious optimism
For the general public, there is a sense that this is a one-off trial. It is as if imagining another such event would be too much to bear.
Psychology graduate Hallgeir Sjaastad recently completed his thesis on adherence to democratic principles after the Breivik attacks.
He said he found that those who where reminded by the attacks of their own mortality "in fact stuck more closely to their democratic principles". If this is the case, Norway may well emerge strengthened from the process.
Also optimistic is Norwegian-Tamil Luxiya Nageswaran, who told the BBC that she believed Norway really had become a more open place, with tolerance for a multicultural society made more explicit.
She also believed most Norwegians were already supportive of a multicultural Norway ahead of 22 July.
"But all the attention around this case has brought their support into the open," she added.
"I believe this will last well beyond the country coming to terms with last year's events."
Norwegian openness
But Norway appears to interpret the word "open" in a particular way.
One Norwegian journalist told the BBC he believed the decision not to broadcast the proceedings in full was problematic in terms of freedom of speech.
"Although it is fair to want to protect victims and their families, they have a choice in whether or not they watch," he said.
Recently, the government's decision to expel children born in Norway to illegal asylum-seekers has been hotly debated.
The centre-left government is headed by the Labour Party, and their decision demonstrates a Norwegian desire to keep the country's borders firmly closed.
It was a shock for people that last year's attacks turned out not to have been carried out by foreign extremists but by a blond man from Oslo.
Sympathy for Breivik's views on immigration is perhaps not as rare as one might expect from a society wishing to brand itself as open and including.
Unanswered questions
Norwegians vow to live their lives as they did before 22 July 2011. However, a recent poll found that more people than before now consider the risk of terrorism an important factor in choosing their holiday destination.
They are also more worried about political unrest, crime, violence and natural disasters than they were a year ago.
In her closing comments, Ms Bejer Engh emphasised that a trial rarely managed to answer all our questions.
It might take more than a year and the closing of the Breivik trial for Norwegians to come to terms with the uncertainty still left, which continues to rock the nation's sense of invulnerability.
The only firm agreement ahead of the verdict appears to be that Breivik must never be let out, and we must never allow 22 July to happen again.