Greece parties agree coalition government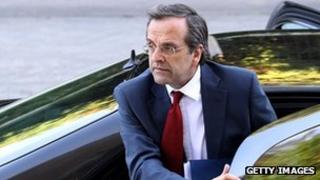 A deal has been struck to form a new Greek coalition government, say the parties involved.
Antonis Samaras of New Democracy, the party which narrowly won Sunday's elections, has met President Karolos Papoulias to confirm the deal.
Mr Samaras is now being sworn in as prime minister, with the cabinet to follow on Thursday.
The coalition will also include the Socialists (Pasok) and the smaller Democratic Left.
But second-place Syriza will be a defiant voice of opposition, correspondents say.
"Greece has a government," said Pasok leader Evangelos Venizelos.
"New Democracy, Pasok and Democratic Left have taken on the burden of responsibility to re-negotiate the bailout agreement and [the job] of exiting Greece from the crisis," he said.
The latest developments come after Greeks were forced to return to the polls on Sunday, after parties failed to agree a government on the results of the first election on 6 May.
Greece has endured nearly seven weeks of political uncertainty which threatened to spark turmoil throughout the eurozone and beyond.
The country is in its fifth year of recession, and there is growing antipathy to the tough terms of Greece's huge bailout from the EU and the International Monetary Fund (IMF).
Mr Venizelos said Greece would be represented by outgoing Finance Minister Giorgos Zanias at a meeting of eurozone finance ministers in Luxembourg on Thursday.
Bailout hardship
The BBC's Andrew Walker in Brussels says European leaders will be relieved that there is now a Greek government to negotiate with, but concern about what they will be asking for.
Even those parties joining the coalition have said they do want changes to the bailout deal - and in particular the junior member, the Democratic Left.
Additional pressure will come from opposition leftist bloc Syriza, which strongly opposes the tough austerity measures required under the bailout.
There have been many street demonstrations - sometimes violent - by Greeks angered by the job losses, pay cuts and reduced welfare resulting from the bailout deal.
Greece got an initial EU-IMF package worth 110bn euros (£89bn; $138bn) in 2010, then a follow-up this year worth 130bn euros.
Greece has also had 107bn euros (£86bn; $135bn) of debt, held by private investors, written off.
New Democracy won 129 seats in Greece's 300-seat parliament on Sunday, followed by Syriza with 71, Pasok with 33 and the Democratic Left with 17.
Between them, New Democracy, Pasok and Democratic Left would have a majority of 29.
They all favour keeping Greece in the euro while wanting to renegotiate the bailout terms, although they differ on the extent.
However, European leaders have indicated that there is limited room for manoeuvre.
The BBC's Chris Morris in Athens says the new coalition will press its EU partners for some breathing space over the bailout conditions, but a frosty reaction can be expected from some countries.