Top German court tightens rules for bailout decisions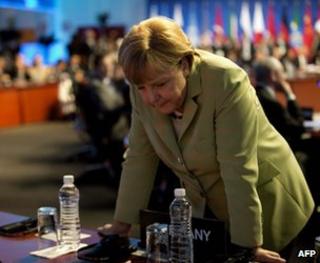 Germany's top court has ruled that its parliament was not given a proper say in Chancellor Angela Merkel's decisions on EU bailouts and budgetary rules.
The Constitutional Court found MPs had not been involved early enough when the permanent EU bailout fund was set up.
Mrs Merkel drove through her plan for tighter eurozone budget rules without informing MPs sufficiently, it added.
A BBC correspondent says the German chancellor may now find it harder to respond quickly to the euro crisis.
Last year, the Constitutional Court obliged the government to seek the approval of the Bundestag's budget committee before agreeing to German participation in eurozone bailout operations.
Tuesday's judgment underlines the increasing constraints on Chancellor Merkel as leaders outside Germany seek a change of policy, the BBC's Stephen Evans reports from Berlin.
'Just a clarification'
The permanent bailout fund (the European Stability Mechanism or ESM) is supposed to come into effect in July.
Germany will account for 27% of contributions to the fund, paying out 21.7bn euros (£17.5bn; $27.4 billion) in cash and providing guarantees worth a further 168.3bn euros.
Many eurozone parliaments, including the Bundestag, have yet to ratify the ESM.
The fiscal compact on budgetary discipline in the EU was agreed in March and is due to come into force next year.
The new complaint was brought by the opposition Green Party. Its leaders say they obtained details of the ESM from their sister party in Austria, rather than the chancellery, the Associated Press news agency reports.
Parliament must in future be in a position to have "early and effective influence" on government decisions, the Constitutional Court ruled.
The Social Democrats, Germany's main opposition party, welcomed the ruling.
It was, said leading Social Democrat MP Thomas Oppermann, "a good day for parliamentary democracy".
"Euro rescue mechanisms must be more transparent and more accountable to the people," he added.
But legal experts quoted by Reuters news agency said the ruling would have little impact on the German government's actions.
"This is not like the ruling last year on the EFSF [European Financial Stability Facility]," said law professor Christian Calliess at Berlin's Free University.
"This ruling is not relevant to the sovereign debt crisis in the eurozone," he added, describing the ruling as a mere "clarification".
An unnamed source in Mrs Merkel's coalition government told Reuters the ruling would not delay ratification of the ESM.
"It has nothing to do with the current ratification of the ESM and fiscal pact," the source said, suggesting it only applied to future eurozone-wide schemes.