Ratko Mladic war crimes trial suspended over evidence error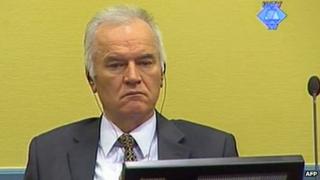 The trial of Bosnian Serb Gen Ratko Mladic has been suspended until further notice, the UN war crimes tribunal for the former Yugoslavia says.
Mr Mladic's trial was due to resume on 25 June after it was halted in May.
Monday's suspension is a result of an error in the disclosure of documents to the defence, the court in The Hague said in a statement.
He denies 11 charges of war crimes and crimes against humanity dating back to the 1992-1995 Bosnian War.
The trial was first halted in May when it first emerged that the prosecution had not disclosed evidence to the defence.
Seventy-year-old Mr Mladic is the last of the key figures wanted for war crimes during the Bosnian War.
On the run for 16 years before his arrest, Mr Mladic has refused to enter a plea.
Some of the relatives of victims and survivors of the war have expressed concern that if the trial takes too long, Mr Mladic, who has suffered from heart problems, will die before a verdict is reached.