Hollande party wins majority in French parliament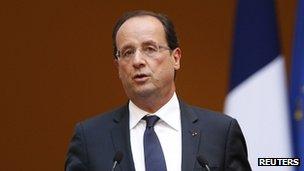 French President Francois Hollande's Socialist Party has won enough seats in parliamentary elections to form an absolute majority.
With final results still to be declared, the Socialists look set to win between 313 and 315 of the 577 seats in the National Assembly.
But former President Nicolas Sarkozy's UMP has seen its share fall from 304 to an estimated 214 seats.
It gives the president strong backing for his tax-and-spend programme.
These results mean the Socialists will not have to rely on the support of the Greens or far left to push through their plans to hire more public workers and refocus EU fiscal efforts away from their emphasis on austerity.
"This score exemplifies strong confidence in the president," said Finance Minister Pierre Moscovici.
Sunday's vote was the second round of a two-part parliamentary election. Turnout was a record low, at 55.9%.
In one of the most closely watched constituencies of La Rochelle, Mr Hollande's ex-partner, the former Socialist presidential contender Segolene Royal, was beaten by a dissident Socialist candidate.
Ms Royal admitted defeat but slammed what she called a "political betrayal", after the president's current partner signalled her support for Ms Royal's opponent on Twitter.
Far-right National Front leader Marine Le Pen lost her race in the northern constituency of Henin-Beaumont by what appears to be a small margin, but her 22-year-old niece, Marion Marechal-Le Pen, is thought to have won in the southern region of Carpentras.
The party took two seats for the first time since the 1980s. Her own defeat aside, Marine Le Pen described the night's results as an "enormous success" for her party.
"The [centre-right] UMP is paying the price for its ideological contradiction", she added.
She now intends to contest the result in Henin-Beaumont, where there were only around 118 votes between her and the socialist candidate.
The BBC's Christian Fraser in Paris says the UMP, the now-leaderless party of the former president Sarkozy, had had a miserable campaign which was reflected in the result.
As exit polls began to be announced, French Prime Minister Jean-Marc Ayrault said the country's voters had confirmed their will to change.
"It is a difficult situation we are in," he said, "but from now on, we will be able to mobilise all our vital powers to make our country even stronger."
In addition to fixing the Eurozone economy, Mr Hollande has said his first priorities for the new parliament include postponing a balanced budget until 2017, raising income taxes and hiring 60,000 new teachers.