Aung San Suu Kyi arrives in Oslo to give Nobel speech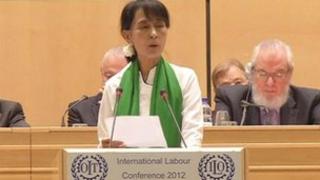 More than 20 years after being awarded the Nobel Peace Prize, Burma's pro-democracy leader Aung San Suu Kyi has arrived in Norway's capital, Oslo, ahead of a ceremony to mark the honour.
Ms Aung San Suu Kyi is on her first visit to Europe since 1988. She arrived in Switzerland late on Wednesday night.
On Thursday, she had to cancel a dinner with Swiss officials after falling ill at a news conference in Bern.
She is due to deliver her Nobel lecture on Saturday.
Ms Aung San Suu Kyi spent much of the past 24 years under house arrest in Burma. She was freed in late 2010.
She won a seat in Burma's parliament in a by-election two months ago.
'Aid and investment'
Ms Aung San Suu Kyi chose to go first to the International Labour Organisation in Geneva because of its long campaign against forced labour in Burma.
But she complained of exhaustion after her speech to the ILO, where she warned against economic development that ignored the rights of workers.
In her speech, she also welcomed steps by the international community to reach out to her long-isolated country.
"The international community is trying very hard... and it's up to our country to respond the right way," Ms Aung San Suu Kyi said.
"I would like to call for aid and investment that will strengthen the democratisation process by promoting social and economic progress that is beneficial to political reform."
The two-week-long trip - seen as another milestone for Burma's political progress - will see her visit the UK, Switzerland, Ireland, France and Norway.
It is her second recent overseas trip, after visiting Thailand in May.
Her decision to travel is seen as a sign of confidence in the government of President Thein Sein, who has pursued a course of reform since coming to power last year, in Burma's first elections in 20 years.
Ms Aung San Suu Kyi is the daughter of Burmese independence leader Aung San, who was assassinated in 1947.
She became the leader of Burma's pro-democracy movement when, after living abroad for many years, she returned to Burma in 1988, initially to look after her sick mother.
She did not leave the country, fearing its military rulers would not allow her to return.
That decision meant she was unable to receive in person her Nobel Peace Prize, or be with her British husband, Michael Aris, when he died in 1999.