Cardinal Sean Brady says Catholic Church abuse failures shameful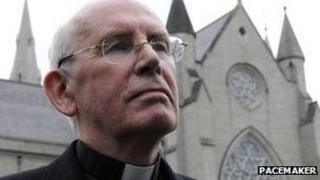 Cardinal Sean Brady has said it is "a matter of deep shame" that the Catholic Church did not always respond properly to victims of child abuse.
The Catholic primate of all Ireland was delivering a homily at the 50th International Eucharistic Congress in Dublin.
He said he wanted to ask for the forgiveness of abuse victims.
He said the church had "first betrayed their trust and then failed to respond adequately to their pain".
Cardinal Brady referred to a stone that sits in a place of honour before the altar at the Congress Arena.
"It will serve as a reminder of those children and young people who were hurt by a Church that first betrayed their trust and then failed to respond adequately to their pain," he said.
"The words of the Gospel echo in my mind: 'It is not the will of your Father that any of these little ones should be lost'.
"May God forgive us for the times when we as individuals and as a Church failed to seek out and care for those little ones who were frightened, alone and in pain because someone was abusing them.
"That we did not always respond to your cries with the concern of the Good Shepherd is a matter of deep shame."
He said the Church prayed for healing and peace "for those whose suffering continues".
The Catholic Church in Ireland has been rocked in recent years by a series of damning public inquiries into the handling of child sex abuse cases in religious institutions and by paedophile priests.
The leader of the Irish Church, Cardinal Sean Brady, faced calls to resign following fresh revelations about his handling of the Fr Brendan Smyth abuse case.
A BBC documentary revealed that a young victim of Smyth gave the then Fr Brady the names and addresses of other children who were at risk of abuse, but he failed to tell police and parents.
Prior to the congress, Dr Brady said his decision to remain in his post would not overshadow the event.
The Eucharistic Congress is an international gathering of Catholics and usually takes place somewhere in the world every four years.
The last such event in Ireland took place in 1932.