Greeks take cash from banks ahead of key elections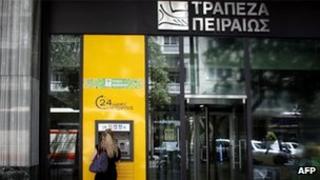 Greeks are withdrawing money from bank accounts ahead of elections amid fears the country may leave the euro, Greek banking officials say.
The rate of cash outflows from Greek banks rose after parliamentary elections in May failed to give any party a mandate to govern.
Officials say the rate of withdrawals has picked up again in recent days, ahead of a fresh vote on Sunday.
Parties opposed to a bailout deal with Greece's creditors may win the poll.
One banking official, who declined to be named, told AP news agency the effect of the withdrawals so far was "not destabilising."
The pro-bailout New Democracy party has been neck-and-neck with the left-wing Syriza party in opinion polls.
Syriza says it wants Greece to remain inside the eurozone, but has run on a platform of rejecting the deal negotiated by Greece's previous government with international lenders to implement budget cuts in return for bailout funds.
European leaders have warned that any such action would lead to the funds being cut off, which could mean Greece having to leave the single currency.
Money has been slowly draining out of Greek banks since the country's sovereign debt crisis came to the fore in 2009.
Approximately 35bn euros ($44bn; £28.3bn) were withdrawn from Greek banks over the course of 2011, according to Greece's central bank, with total deposits standing at 165.9bn ($207.9bn; £134bn) as of this April.
In one week after the May elections, Greeks withdrew 700m euros ($894m; £560m) from the country's banks, according to Greek President Karolos Papoulias.
Some reports suggest that some of the cash may be being used to buy staple goods.
"People are terrified by the prospect of returning to the drachma and some believe it's good to fill their cupboard with food products," Vassilis Korkidis, head of the ESEE retail federation, told Reuters.