Psychologist tells trial in Norway Breivik is sane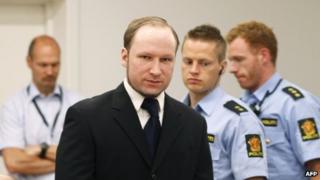 A psychology professor called to testify at the trial of Anders Behring Breivik has said he believes the self-confessed mass killer is sane.
Svenn Torgersen told the court in the Norwegian capital Oslo he agreed with the conclusions of the second court-appointed psychiatric team.
The second team found Breivik sane, contradicting the assessment of the first team last year.
Breivik will be sent to prison if the trial decides he is sane.
Breivik admits bombing government buildings in Oslo before shooting young Labour Party supporters at a camp on the lake island of Utoeya on 22 July last year.
In all, he killed 77 people and injured 242.
Breivik sought to justify his attacks by saying they were necessary to stop the "Islamisation" of Norway.
'Consistency lacking'
The first team of experts concluded Breivik was psychotic, suffering from paranoid schizophrenia, while the second came to the opposite conclusion.
Professor Torgersen said on Tuesday he was critical of the first report's findings.
"I didn't find consistency between premises and conclusions... the clinical observations that it includes, and the conclusions on what criteria are met," he said.
He identified as a weakness the first report's focus on Breivik's childhood.
"The second report has an analysis of psychosis, lies and fantasies, on page 293, which is one of the better ones I've read," he told the court.
The court's verdict is not expected before 20 July.