Greece election: Syriza leader Tsipras defies EU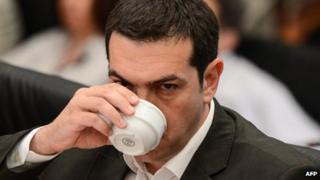 The leader of Greece's radical leftist party Syriza, Alexis Tsipras, has warned the EU against trying to cow him if he wins Sunday's election.
He told reporters he was determined to create a new government that would cancel the last bailout and adopt a new plan based on growth and jobs.
Greece, he insisted, would remain inside the eurozone.
His opponents have warned the country faces an exit from the euro and economic disaster if Syriza wins.
A senior adviser to New Democracy, Greece's main conservative party, told BBC News that Syriza's economic plans would turn the country into a wasteland.
Syriza's rise has been spectacular but the electorate is volatile and the outcome of the vote hard to predict, says the BBC's Europe correspondent, Chris Morris.
By law, no opinion polls may be conducted in the final two weeks before the election.
The last available polls suggested New Democracy and Syriza were neck and neck.
'Bailout is history'
Speaking in the capital Athens, Mr Tsipras said the EU would not be able to "blackmail or threaten" him if he won the election.
"The bailout deal is already in the past," he said. "It will be history for good on Monday."
The 37-year-old said he hoped to convince EU leaders that they could not afford to force Greece out of the eurozone.
"If one of the 17 countries is brought to collapse. The fire will become unquenchable and will not be limited to Greece and the southern countries," he said.
"It will break up the eurozone and that will not be in anybody's interests."
He said that in the event of victory, his party would place the banking system "under public and social control so that Greek depositors feel safe".
It would also introduce a progressive corporate tax scale that would increase tax for high-earning businesses.
German Chancellor Angela Merkel reiterated on Tuesday her calls for heavily indebted EU nations to push ahead with structural reforms, urging them not to rely on government spending to foster growth.
[an error occurred while processing this directive]
Under Greek law, polls cannot be carried out within 14 days of an election, so the last poll was on 1 June.