Hollande's partner Trierweiler in Royal Twitter row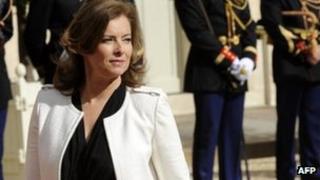 The current partner of French President Francois Hollande has used Twitter to back an opponent of his ex-partner in elections on Sunday.
The new first lady Valerie Trierweiler tweeted that she wished Segolene Royal's opponent well.
Dissident socialist Olivier Falorni is battling Ms Royal to represent the constituency which includes the town of La Rochelle in parliament.
Mr Hollande has declared his full support for Ms Royal's election bid.
Ms Royal has made no comment on the Tweet.
The couple were together for some 30 years and have four children.
Ms Trierweiler tweeted her good wishes to "Olivier Falorni who has proved himself worthy, who has fought selflessly for the people of La Rochelle for so many years".
Mr Falorni had refused to stand aside in favour of Ms Royal and was excluded from the party.
He finished just behind her in the first round of voting and the pair will now face each other on Sunday.
Mr Falorni has said he is "delighted" to have the support of the president's wife.
Conservative UMP candidate Sally Chadjaa, who narrowly failed to obtain enough votes to reach the run-off, has said she will cast a blank vote in the second round, which she describes as an "internal, fratricidal fight within the Socialist Party".
'Private jealousy'
The tweet is likely to cause President Hollande huge embarrassment, the BBC's Christian Fraser in Paris says.
The president recently told journalists he and his partner agreed on everything except her tweets.
It is also likely to fuel media reports about tensions between the couple, he says.
L'Express magazine recently reported Miss Trierweiler had "a private jealousy that complicates political relations".
Mr Hollande has given Ms Royal permission to quote him in her campaign literature as saying: "In this constituency, Segolene Royal is the only candidate of the presidential majority who deserves my support and backing."
Correction, 13 June 2012: We previously stated that conservative UMP candidate Sally Chadjaa was standing in the second round against Ms Royal and Mr Falorni. This is untrue. Ms Chadjaa narrowly failed to obtain enough votes to reach the second round.