Russian police search opposition leaders' homes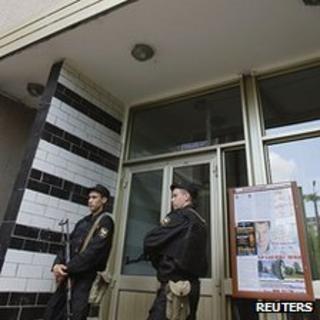 Police in Moscow are searching the homes of several opposition leaders on the eve of a planned anti-government rally, Russian officials say.
Anti-corruption blogger Alexei Navalny, Sergei Udaltsov and Ilya Yashin are among those targeted by police.
The investigation relates to clashes between protesters and police on 6 May.
On Friday, President Vladimir Putin signed a new law sharply increasing fines for people who hold unsanctioned protests and cause damage or injury.
Russia's Investigative Committee said police "intend to conduct 10 searches in all today".
Alexei Navalny described Monday's police raid as "awesome" in a message on Twitter, saying "they almost carved up the door (this is actually true)".
He said police removed computer disks containing photos of his children, along with items of clothing, including a sweatshirt with an opposition slogan.
Moscow Echo radio said police also targeted the home of Ksenia Sobchak - a famous television presenter who joined the protest movement after the December parliamentary elections, which the opposition said were rigged in favour of pro-Putin candidates.
The controversial law on protests, adopted last week, boosts fines for violations from the current maximum 5,000 roubles (£99; $152) to 300,000 for participants and 600,000 for organisers.
The 6 May protest, on the eve of President Putin's inauguration, resulted in clashes and hundreds of arrests.
Mr Navalny and Mr Udaltsov are among dozens of activists who have spent time in jail after holding anti-Putin rallies.
Summoned for questioning
The mass opposition rally planned for Tuesday is the first since President Putin began his third term in the Kremlin.
The Investigative Committee says Mr Navalny, Mr Udaltsov, Mr Yashin and Ms Sobchak have been ordered to appear for questioning on Tuesday.
Mr Navalny's lawyer Olga Mikhailova said police prevented her reaching his flat during the search, violating the law which gives her a right to be there.
According to the Committee's spokesman Vladimir Markin, she was allowed in once she presented the required papers.
Police also turned up at the flat of Boris Nemtsov, another prominent anti-Putin activist.
A member of his Solidarity movement, Olga Shorina, said Mr Nemtsov was away from Moscow but would attend Tuesday's rally, dubbed "the March of Millions".
Speaking to the BBC, opposition activist Andrei Piontkovsky said the authorities "want to scare off Muscovites from participating in a very important political event".
But he called it "a very simplistic idea to behead the protest demonstrations".
"Judging by the reaction in the media, internet and blogosphere, the result is the opposite - tomorrow there will be more people than expected.
"It was a decision by one person - Vladimir Putin. Who else would be able to send the prosecutor's office representatives at seven in the morning on a holiday to the homes of the protest organisers? This means he is becoming increasingly ineffective in his actions - which is bad of course, as he is the president of a nuclear state."
Another political analyst, Gleb Pavlovsky, also saw Mr Putin's hand in Monday's crackdown.
"Putin is lost and doesn't know what to do. Today the authorities' problem is that they can't work out a new policy, now that they are facing a totally different society," he said.
A pro-Kremlin political analyst, Dmitry Orlov, rejected opposition activists' comparisons of Monday's raids with the Stalinist secret police crackdown of 1937.
"I don't think that [the house searches] amount to intimidation. The March of Millions tomorrow will be a relatively small act, with a few thousand participants - mostly aggressive opponents of the system," he said.
"Representatives of the middle class scared by the provocations during the 6 May demonstration will definitely not go there. The ones who will go will be Left Front supporters, aggressive people ready for a conflict with the police."